'Why me?' asks vulnerable woman covered in flour and eggs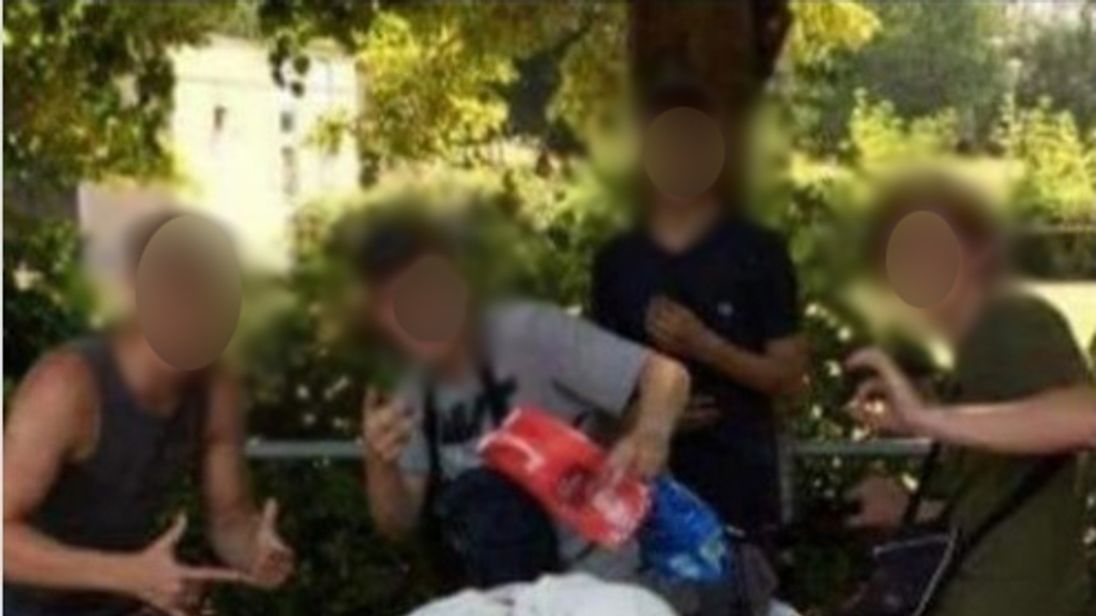 A vulnerable woman who was covered in flour and eggs and photographed in front of four teenage boys says she wants to know why she was targeted.
The woman had been sitting on a park bench in Bury St Edmunds, Suffolk, on Friday evening when she was approached by the group.
She told Sky News that "some young people" had approached her and after a verbal exchange two of the group had "spat on me once or twice each".
"They circled about a little and then re-appeared with a bag of flour…and water and eggs."
A photo posted on social media shows the woman cowering on the bench, covered in flour and eggs, as four boys stand around her, grinning and making hand gestures.
The 49-year-old, who does not want to be identified, said: "I was covered in flour etc and was later told that pictures had been on social media, which I have not investigated or seen myself, as a self-preservation precaution."
Suffolk Police described her as "severely distressed…but was physically unharmed".
She told Sky News: "I do not wish to over-react and will accept what neighbours and friends say has been said online.
"I certainly do consider this to be an assault on my person and my ability to enjoy the green area there.
"Considering the respective ages of all parties and that it was five or six young men versus me alone, I remain surprised that they have behaved in such a way towards me.
"I would like to hear their reasons if possible.
"It was not a pleasant experience and the limit of what I can publicly tolerate, however, I have no wish to escalate current tensions."
Police arrested four boys, two aged 17 and two aged 15, over the weekend but all have since been released on bail pending further enquiries.
On Monday, another boy, 15, was arrested on suspicion of common assault and was also bailed pending further enquiries.
A sixth boy, 16, was also questioned under caution and remains under investigation.
Suffolk Police Acting Detective Superintendent Barry Byford said: "This is a live investigation and we do not support vigilantism in any way, shape or form.
"Social media users should remember that sharing names and images, which may later form part of a criminal investigation, can disrupt or jeopardise the case.
"We are satisfied that we have spoken to everyone involved with the incident and we are continuing to support the victim."