'Wake-up' call for train companies as new complaint service opens
Rail passengers who are unhappy with how their complaints have been handled can now take their grievance to an ombudsman.
Consumer groups hope the new system, which launches today, will improve how train companies handle complaints.
The ombudsman's decision will be binding and operators will have to take action if failings are identified.
Figures from the Office of Rail and Road show just 28% of people who made a complaint to a train company in 2017/18 were satisfied with the outcome.
The most common areas of complaints include punctuality and reliability, difficulties buying a ticket, and not being able to find a seat.
:: 'Raw deal': Trains must be run for passengers – not the rail firms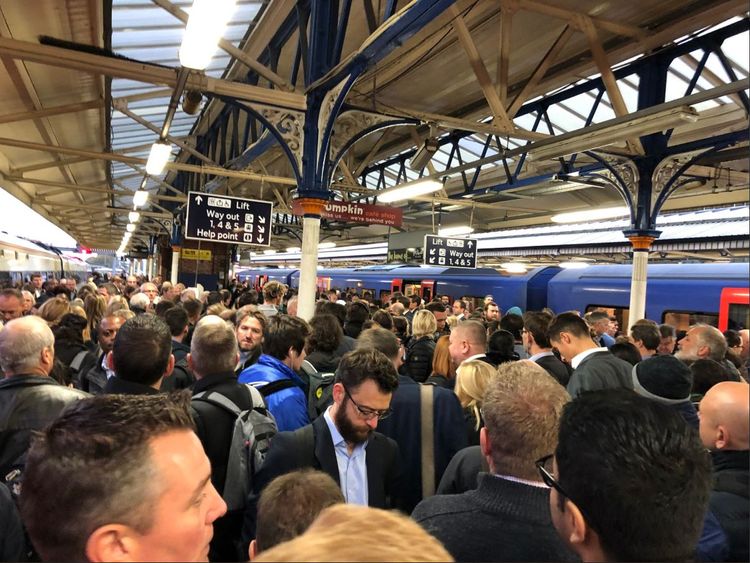 Under the new system, passengers can go to the ombudsman if they are unhappy with the final response to their complaint, or if it has not been resolved within 40 working days.
The service is being funded by the train companies.
Rail minister Andrew Jones said the launch was a "significant step forward for passengers' rights" and said companies should "take this opportunity to improve their complaints process".
Industry body the Rail Delivery Group said the system "also means it's no longer possible for complaints to become deadlocked between a rail company and a customer".
Alex Hayman, managing director of public markets at consumer group Which?, said: "The launch of the independent rail ombudsman is a positive step for passengers, who have felt for too long like their complaints are not being taken seriously.
"It should be a wake-up call for train companies to step up and start delivering good customer service when things go wrong.
"Then passengers will have no need to escalate their complaints."
Anthony Smith, chief executive of independent passenger watchdog Transport Focus, said: "We expect the ability of the rail ombudsman to impose binding decisions to resolve complaints – and the fact it can charge train companies fees for doing this – will drive improvements to the way most train operators handle passenger complaints."