Victim says there are more girls being abused
One of the victims of a grooming gang jailed for abusing 15 girls believes there are more young people yet to speak out.
Speaking anonymously to Sky News, the woman – who was abused between the ages of 13 and 18 – shared her story and urged others to "get justice for themselves".
The call comes after sixteen men were jailed for a total of 221 years as part of the grooming gang who abused 15 girls in and around Huddersfield between 2004 and 2011.
Four more men were found guilty and are waiting to be sentenced for offences such as rape and trafficking for sexual exploitation.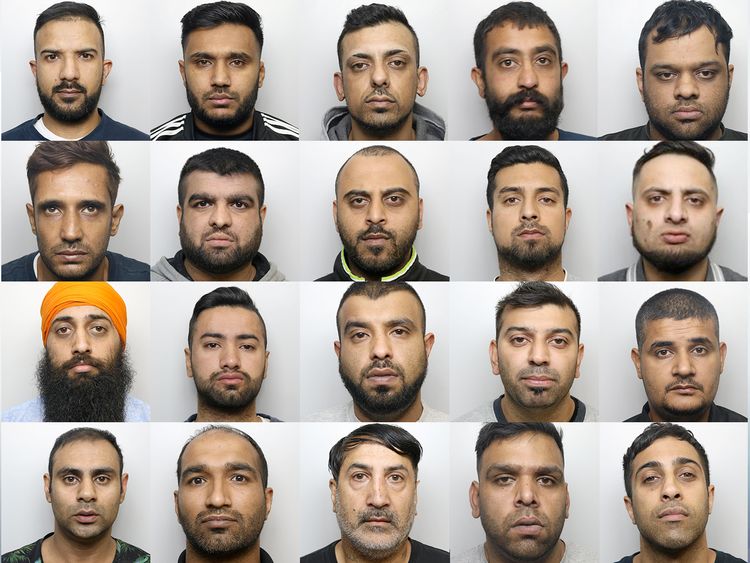 The victim said she became "friends" with the men at first before the abuse started.
"They used to buy you gifts, give you cigarettes, alcohol, cannabis," she said. "And then I was in a relationship with one of them, and then it's like you start getting passed around to their friends and stuff.
"Some days you're waking up and you don't even know how you've ended up in certain places.
"You can't remember what happened to you. It was just a circle."
She said she was taking drugs, getting her drinks spiked and was "constantly getting beaten up". She said it was "all a bit of a haze".
It was years before she spoke out about her ordeal.
She said she thought there were "loads of victims out there that need to come forward and get justice for themselves".
The woman said she believed abuse was still going on in Huddersfield.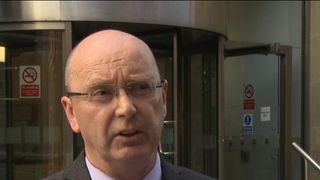 "The men, they range from various ages. I think the oldest was 54 and the youngest was in his 20s," she said. "And it's like the older ones pass it down to the younger generation.
"History will just keep on repeating itself."
She added: "I hope that the results that we've got gives them to courage to come forward and speak up and get the justice they deserve."
The woman's mother told Sky News she wanted to see better awareness of grooming and how it can manifest.
"As a parent, with a 13-year-old, if you notice a change in their behaviour, any change – don't be afraid, don't be afraid to ask them why," she said.
"Don't be afraid to say to them 'look – are you being groomed?'
"Explain what it is because that is the only way we're going to stop this – we have to make them aware."
She said the victims had been "failed by all the authorities in question".
"They do need more safeguarding training, they need more awareness around it," she said. "[They need to know] not to be afraid, for them to speak out and not to be afraid of arresting somebody and saying 'look, we think this is going on'."
The convictions have spurred new debate around grooming gangs with all of the men being of south Asian heritage and predominantly Pakistani backgrounds.
Commenting on the case, Home Secretary Sajid Javid tweeted: "These sick Asian paedophiles are finally facing justice. I want to commend the bravery of the victims. For too long, they were ignored. Not on my watch. There will be no no-go areas."
Labour MP David Lammy denounced Mr Javid's remarks and replied: "Shame on you @sajidjavid. Words have consequences and your pandering to the far right increases the risk of violence against British Asians."
Local mosque leaders have since spoken out to strongly condemn the "monstrous" crimes.
The Kirklees Imams and Mosques Advisory Board said: "We are working in partnership with the police, the local authority and other bodies and groups at various levels with the twin aims of supporting vulnerable children and educating communities to report these types of crimes.
"These atrocious crimes are not rooted in any social class, culture, ethnicity, colour or religion but are the result of evil and immoral intentions of the predators."