'Utter c**k' slur as eurosceptic Tory MP awarded knighthood
MPs have mocked a knighthood awarded to a veteran eurosceptic MP, and accused the prime minister of abusing the honours system to help secure her Brexit deal.
Sir John Hayes was honoured by Downing Street on Friday, prompting critical calls of "cronyism".
In a stinging rebuke, Conservative MP Mark Francois suggested his coat of arms should feature an "utter c**k rampant on one side and a big chicken on the other".
Mr Francois, who is calling for a no confidence vote in the prime minister, said Sir John could list his political principles "on the back of an old postage stamp".
His caustic letter claims the award is a sign of "absolute desperation by a government which has effectively abandoned Brexit… to the extent that it is now reduced to handing out knighthoods to malleable colleagues, in a doomed attempt to stave off an almost certain defeat on the meaningful vote".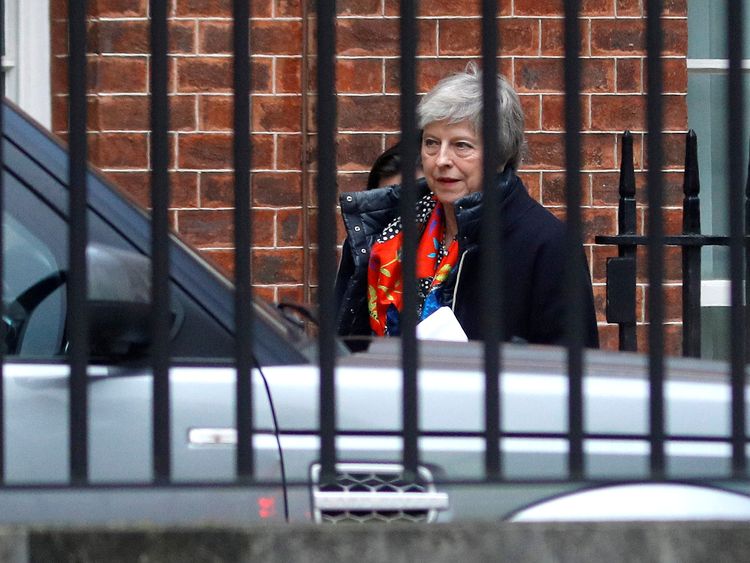 Sir John had been a vocal critic of Theresa May's plans for the Irish backstop but is not thought to have submitted a no confidence letter, and has yet to say he will rebel in the meaningful vote.
The MP for South Holland and the Deepings held a number of ministerial positions from 2001 to 2018, when he lost his job in the department for transport.
Theresa May is planning a charm offensive across the UK to try and win support for her deal.
The parliamentary arithmetic is currently looking shaky, with her DUP allies, Labour and up to 85 of her own MPs threatening to vote down her plan.
Labour MP Jo Stevens, a supporter of the pro-EU Best for Britain, said: "This stinks of cronyism. It seems that in order to pass its unpopular Brexit deal, the government is willing to hand out knighthoods left, right and centre."
Shadow cabinet office minister Chris Matheson said: "It would be a spectacular act of desperation for Theresa May to be giving away knighthoods in a bid to win votes for her botched Brexit deal."
Former Downing Street director of communications Alastair Campbell tweeted his fury, writing: "In a developing country we would call it corruption. Because it is. Disgusting."
Sir John told his local newspaper, the Spalding Guardian: "I am just immensely proud on behalf of my family and my constituency. I am very proud to be MP for the area which I live – I see it as something for everyone in the area, not just for me."
A spokesman for Sir John told Sky News that the honour was a "complete surprise", adding: "He has made it well known that he has taken a lot of convincing about this deal because of persistent doubts about the backstop and transition period, which he has made clear to Downing Street."