Two police officers kicked and heckled by crowd as they arrest suspect in McDonald's
Footage has emerged of the moment two police officers were kicked and heckled as they arrested a man for fighting customers at a McDonald's.
Officers arrived at the restaurant in Hackney, London, at 10.40pm on Sunday after staff set off a panic alarm.
The officers managed to restrain a suspect and attempted to arrest him, but were attacked by onlookers.
They were surrounded by people screaming, shouting and filming the incident on mobile phones.
In one part of the clip, an officer can be seen raising his arm above the suspect's head as the situation gets out of control.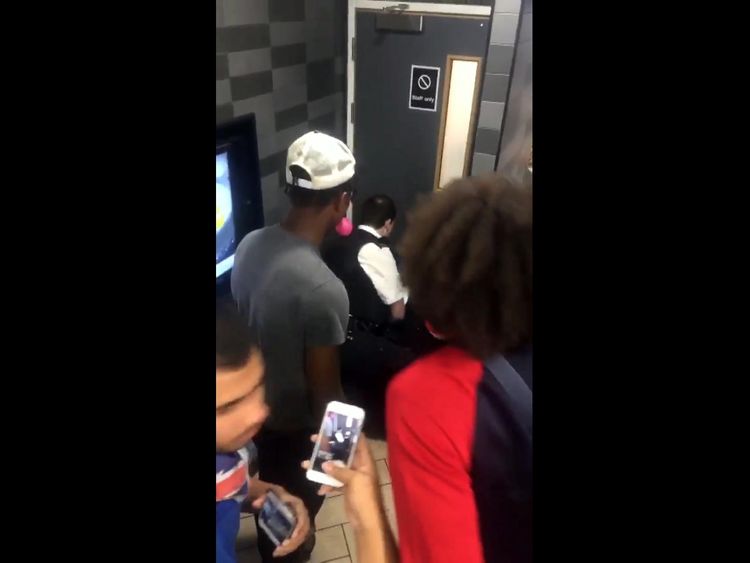 Before the attack on the officers, someone in the background says: "They're going to kill him".
A man then launches himself at the officer, kicking him twice.
Further chaos ensues as the officer is kicked by the man again while on the floor.
"Get the f*** off me," the PC can be heard shouting, before pointing a Taser at another man who approaches him.
Both officers were later treated by paramedics – one for an ankle injury and the other for cuts to his face.
Neither called in sick and are back at work.
The man on the floor was arrested and detained, police confirmed.
One of the suspects seen attacking the police officer was arrested and taken to a north London police station.
Police are searching for another suspect.
Met Police acting borough commander Steve Johnson called the incident "unacceptable".
"Two officers, who were responding to a call to protect the public have been repeatedly assaulted," he said.
"This is an unacceptable, nasty incident, with my officers being kicked while they were on the floor just trying to do their job.
"I would ask anyone with any information to call us and assist in the investigation."
Any witnesses or anyone with any information is asked to call police on 101 or contact via Twitter @MetCC. Quote CAD 7430/28AUG.
To give information anonymously contact Crimestoppers on 0800 555 111 or online at crimestoppers-uk.org.