Treasury yet to agree date for annual China finance talks
The government is struggling to agree the timing of a key annual financial sector summit with China, months before Britain's departure from the EU intensifies the urgency of securing bilateral trade deals.
Sky News has learnt that a date has yet to be agreed for the UK-China Economic and Financial Dialogue (EFD), which is due to take place in London before the end of 2018.
The EFD, which has been staged annually since 2008, forms a critical part of Britain's efforts to encourage Beijing's use of the City as an international financial hub, and bolster financial services industry trade links.
It is unclear whether a date for the tenth EFD will be agreed by the end of the year, although Treasury sources denied suggestions which have been voiced privately by senior City figures that China is refusing to finalise the timing over a recent incident in the South China Sea involving the Royal Navy ship HMS Albion.
A Treasury spokesperson said: "We are in discussions with the Chinese Ministry of Finance to agree a date for the next UK-China Financial Dialogue and hope to confirm this soon.
"Previous dialogues have agreed billions of pounds worth of commercial deals for both of our countries.
"We are committed to deepening this vital partnership even further in the future."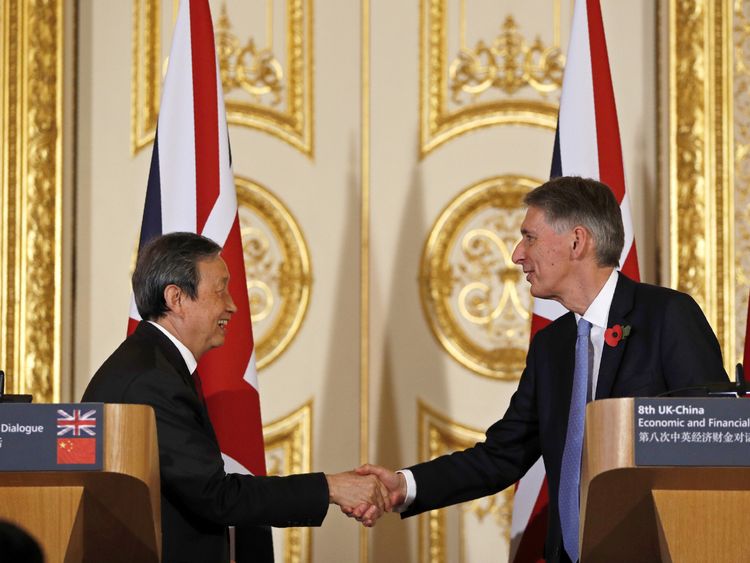 One insider said on Monday that a date would be agreed for the latest summit but that it was unlikely to take place until early in the new year.
Last year's EFD in Beijing featured a range of agreements including a commitment to deepening links between the UK and Chinese capital markets.
A London-Shanghai Stock Connect that will enable companies from the two countries to list depositary receipts on each other's stock exchanges is said to be advancing, with HSBC Holdings keen to fulfil a long-held ambition of being the first foreign business to list in mainland China.
The 2017 talks also included the UK's role in China's Belt and Road Initiative (BRI), Beijing's flagship international trade project.
Any meaningful delay to the latest round of talks between the UK and China would embarrass the government and infuriate financial services executives already anxious about the prospect of a hard Brexit.
A Treasury source pointed out that previous rounds of the EFD have taken place in different months of the year, including September, November and December.
Last week, Li Keqiang, the Chinese premier, told Theresa May that he wanted China and Britain to strengthen trade ties in the coming years.