Third of house sellers slashing price amid market uncertainty
More than a third of people selling their homes are cutting the original asking price, according to research.
The average discount is £26,131, property website Zoopla said, adding that 37.9% of homes for sale had been reduced in price in the last six months – up from 32.4% in April.
The biggest percentage decrease was 7.77% in Bradford – or a drop of £10,738 on average.
Mitcham in south London, Newcastle upon Tyne and Doncaster have also seen drops of 7% or more.
In London, the average figure was 6.89% – equating to a drop of £64,661. Almost two fifths of properties in the capital – 39.46% – have had their values revised.
In Kensington and Chelsea, the average reduction is £127,394 – nearly five times the national average of £26,131.
Other locations in the top ten are Bolton, Chesterfield, Blackburn, Liverpool and Blackpool.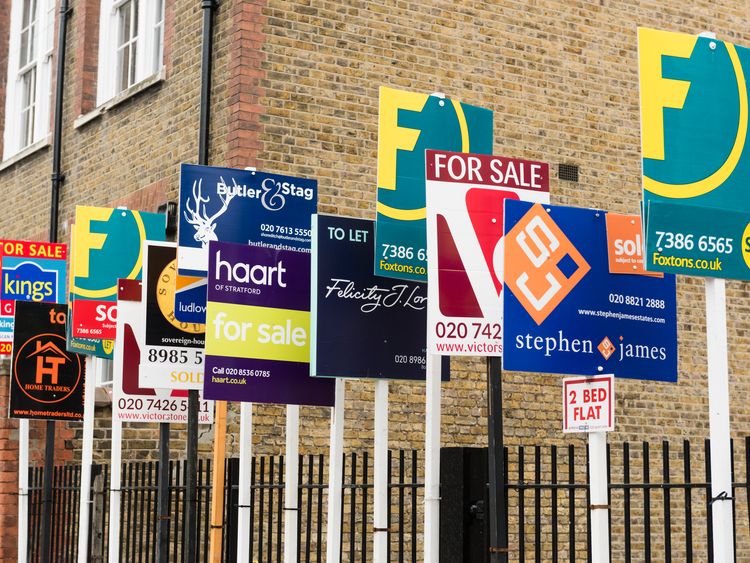 Areas with the smallest reductions in asking price included Bedford and York, with reductions of 5.62% and 5.66% respectively.
Brighton tops the list of places with the largest proportion of homes which have been reduced – 46.6%, followed by Woking, Mitcham, Slough and Sutton.
Glasgow has seen the lowest price reductions – at 18.84% on average – followed by Manchester and Liverpool.
Lawrence Hall from Zoopla said that while it was "welcome news for prospective first-time buyers", there was "further market uncertainty ahead".
:: Top 10 areas with the biggest average price reductions in percentage and value
1. Bradford, 7.77%, £10,738
2. Mitcham, 7.45%, £47,165
3. Newcastle upon Tyne, 7.18%, £13,721
4. Doncaster, 7%, £13,915
5. Bolton, 6.97%, £15,874
6. London, 6.89%, £64,661
7. Chesterfield, 6.81%, £16,567
8. Blackburn, 6.78%, £8,893
9. Liverpool, 6.77%, £13,078
10. Blackpool, 6.70%, £10,113
:: Top 10 areas with the highest proportion of homes on the market that have had the original asking price reduced
1. Brighton, 46.60%
2. Woking, 46%
3. Mitcham, 45.92%
4. Slough, 45.84%
5. Sutton, 45.37%
6. Reading, 44.62%
7. Basingstoke, 43.79%
8. Harrow, 43.34%
9. Twickenham, 43.30%
10. Croydon, 43.08%
:: Top 10 areas with the smallest asking price reductions in percentage and cash terms
1. Bedford, 5.62%, £20,643
2. York, 5.66%, £17,835
=3. Huntingdon, 5.73%, £20,217
=3. Peterborough, 5.73%, £16,047
5. Horsham, 5.78%, £25,420
=6. Birmingham, 5.79%, £15,006
=6. Basingstoke, 5.79%, £21,866
8. Slough, 5.80%, £31,732
9. Chorley, 5.85%, £11,308
10. Sutton, 5.88%, £25,228
:: Top 10 areas with the smallest proportion of homes on the market that have had the original asking price reduced
1. Glasgow, 18.84%
2. Manchester, 25.87%
3. Liverpool, 28.51%
4. Sheffield, 30.11%
5. Birmingham, 30.36%
6. York, 31.72%
7. Stoke-on-Trent, 32.40%
8. Coventry, 32.55%
9. Cardiff, 33.01%
10. Hull, 33.66%