Theresa May will face Tory critics at showdown meeting
Theresa May will face her backbenchers at a potentially crucial meeting on Wednesday, Sky News can confirm.
The prime minister will address the 1922 committee of Conservative MPs, amid speculation she could be about to face a vote of no confidence in her leadership.
"She is going and taking the opportunity to talk to colleagues," a senior Tory source said.
In order for a no confidence vote to be held, 48 letters from Conservative MPs must be submitted to the party's chairman.
There has been days of speculation in Westminster that this threshold could soon be reached, with many MPs said to be unhappy with Mrs May's handling of Brexit.
A number of anonymous MPs were quoted as using stark language to describe the PM's predicament – with one saying she was in a "killing zone" and another saying Mrs May should "bring her own noose" to Wednesday's meeting.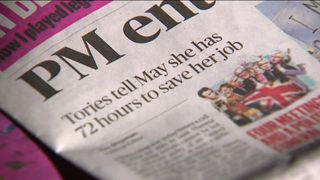 The violent rhetoric sparked a backlash from across the political spectrum, with one Tory former minister calling on the PM to reprimand the MP or MPs responsible.
And there have been suggestions the briefings have backfired and caused MPs to rally behind Mrs May.
The PM is facing a crucial period in her leadership, as she battles to keep her party on side and secure a withdrawal deal with the EU and get it through parliament.
Mrs May updated MPs on the Brexit state of play on Monday, telling the Commons an agreement on the terms of Britain's EU exit was 95% done.
She also called on fellow Tories to "hold our nerve" and get a deal over the line.
More follows…