Storm Diana set to hit UK with heavy rain and up to 70mph winds
Storm Diana is set to bring heavy rain and severe gales of up to 70mph to the UK on Wednesday.
The Met Office has issued yellow weather warnings for western parts of the country as the powerful winds approach.
The storm could bring between 60mm and 80mm of rain to some areas
It is expected to move through relatively quickly, although showers are likely to persist into Thursday.
Temperatures are predicted to be mild, with highs of 15C (59F) possible in the South East on Wednesday and Thursday – around 5C (9F) above average for the time of year.
Storm Diana, named by the IPMA Portuguese weather service, threatened the Azores archipelago in the Atlantic Ocean on Monday.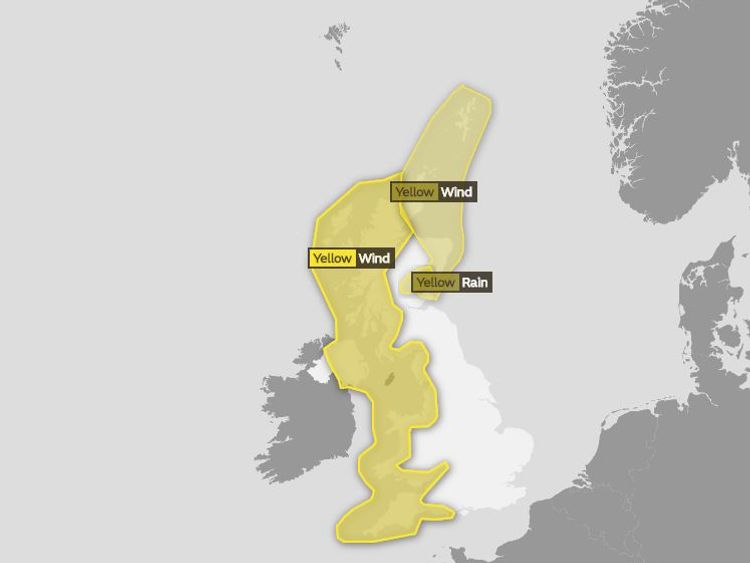 Storm Diana, which follows a recent cold and sunny spell in the UK, comes as hundreds of flights have been delayed and cancelled after thick fog descended on the South East.
The weather caused 62 flights from Heathrow to be cancelled and 380 to be delayed by more than 15 minutes on Tuesday morning.
The majority of disrupted journeys were British Airways services, with the carrier cancelling 45 scheduled flights and delaying 237.
A Heathrow spokeswoman said: "This morning's heavy fog has led to reduced visibility across all London airports which may result in some passengers experiencing disruption to their journeys today.
"Passengers are advised to check their flight status with their airline before coming to Heathrow.
"As always, our top priority is the safety of passengers and we apologise to those whose travel has been affected by today's weather."
The conditions also caused delays to trains serving Gatwick.
A statement on the National Rail Enquiries website read: "Southern and Thameslink have received a number of reports from drivers that due to heavy fog they are having to run at a reduced speed due to reduced visibility.
"When thick fog is present, drivers are unable to see signals from their normal distances and to continue to operate safely they must drive at reduced speeds so that they are able to view signals."