Sparks fly as drink-drivers with missing tyres hit the motorway
Footage of drink-drivers swerving dangerously in the road has been released by West Midlands Police as they crack down on festive drinkers before Christmas.
Footage of one motorist narrowly avoiding oncoming traffic and parked cars was shared by officers hoping to emphasise the dangers of drink-driving.
The 35-year-old driver was spotted by officers at about 10.45am on Sunday 2 December.
He had no insurance and no driving licence, while the Ford KA he was driving was missing a front tyre.
In a test, he recorded 161 micrograms of alcohol in 100ml of breath. The legal limit is 35 micrograms, meaning he was more than four times over the legal limit.
He admitted drink-driving and dangerous driving as well as driving without insurance at Birmingham Magistrates Court.
Now released on bail, he will be sentenced on 4 January.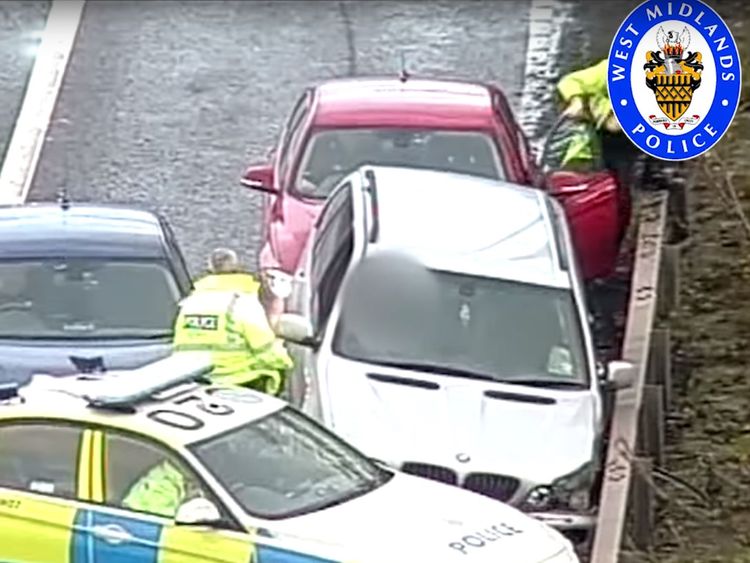 In a separate incident on the M42, sparks flew as a man drove a BMW X5 without a front wheel and a back tyre. He ended up hitting a crash barrier.
The 24-year-old admitted dangerous driving, disqualified driving and failing to provide a breath specimen.
He has also been bailed until sentencing in January.
WMP and Central Motorway Police Group (CMPG) are clamping down on drink and drug-driving throughout December.
Those caught driving under the influence can face penalty points, a ban and jail.
Sergeant Jon Butler, from WMP, said: "We can only hope the message gets through that there are real dangers to getting behind the wheel while under the influence of drink or drugs. This is both to drivers and other innocent members of the public.
"We have a zero tolerance approach and our officers are out there 24/7 to catch those who risk the safety, and lives, of themselves and innocent others.
"Drink-driving is unacceptable and we will catch and prosecute those who break the law."