Shamima Begum: Court rules IS bride can return to UK to challenge removal of British citizenship | UK News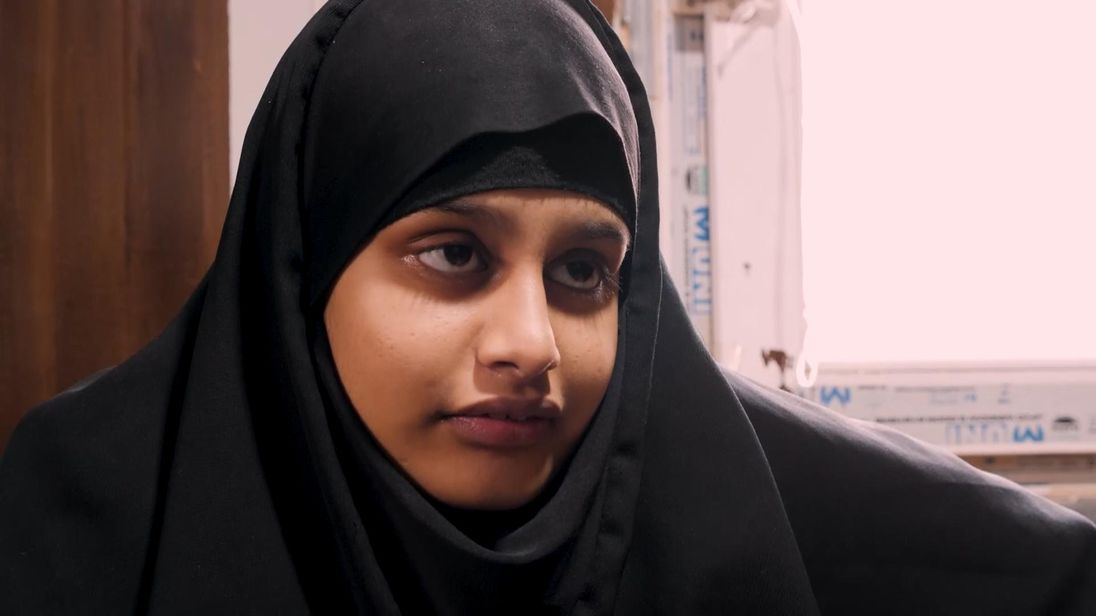 Shamima Begum, one of three east London schoolgirls who travelled to Syria to join so-called Islamic State, should be allowed to return to the UK to challenge the deprivation of her British citizenship, senior judges have ruled.
The 20-year-old left the UK in February 2015 and lived under IS rule for more than three years before she was found, nine months pregnant, in a refugee camp in February last year.
The then home secretary Sajid Javid revoked her British citizenship on national security grounds later than month.
In an interview with Sky News she claimed she was "just a housewife" during her four years in IS' self-declared caliphate, where she married a young Dutch IS fighter called Yago Riedijk three weeks after arriving.
She said she left Raqqa in January 2017 with her husband but her children, a one-year-old girl and a three-month-old boy, had both since died.
Her third child, called Jarrah, died shortly after he was born last year.
Ms Begum took legal action against the Home Office, claiming the government's decision was unlawful because it rendered her stateless and exposed her to a real risk of death or inhuman and degrading treatment
In February, the Special Immigration Appeals Commission (SIAC) – a specialist tribunal which hears challenges to decisions to remove someone's British citizenship on national security grounds – ruled the decision was lawful as Ms Begum was "a citizen of Bangladesh by descent" at the time of the decision.
The tribunal also found that she "cannot play any meaningful part in her appeal and that, to that extent, the appeal will not be fair and effective", but ruled that "it does not follow that her appeal succeeds".
Ms Begum's challenge to the Home Office's decision to refuse to allow her to enter the UK to effectively pursue her appeal was also rejected.
In June, Ms Begum's barrister Tom Hickman QC told the Court of Appeal that removing his client's British citizenship took away "the real possibility that she could return to the UK".
He said the decision had the result of "exposing her to … the real risk of removal to Bangladesh or Iraq", where Ms Begum faced "extra-judicial killing at the hands of the police" or "a wholly unfair and predetermined 'trial' and an immediate sentence of death".
Mr Hickman pointed out that Ms Begum, who remains in al Roj camp in Syria, was only 15 when she left the UK, saying: "She had not even taken her GCSE exams."
Sir James Eadie QC, representing the Home Office, said: "The fact that the appellant could not fully engage with the statutory appeal procedure was a result of her decision to leave the UK, travel to Syria against Foreign and Commonwealth Office advice and align with ISIL.
"This led to her being held in conditions akin to detention in a foreign state at the hands of a third party, the Syrian Defence Force.
"It was not the result of any action by the secretary of state and the deprivation decision did not have any causative impact on the appellant in this respect."