Ryanair passengers' anger as compensation cheques for cancelled flights bounce
Ryanair passengers are furious after cheques they received compensating them for cancelled flights bounced.
The Irish low-cost airline has apologised and said "a very small number of cheques" processed in July had been issued without a signature due to an "administration error".
Consumer complaints service Resolver said it was aware a number of Ryanair passengers had encountered problems with cheques issued for flight delays or cancellations.
Thousands of passengers were affected in July after 30 flights were cancelled due to Irish pilots striking over seniority, promotion and annual leave.
Ryanair said the cheques had been re-issued to customers with a letter of explanation on 15 August.
One passenger wrote on Twitter on 14 August: "@Ryanair I have been trying to get hold of someone urgently as my bank are concerned because a compensation cheque that I received has bounced, i think that this is outrageous, the bank said the bank details provided do not exist…how is this possible with a printed cheque…."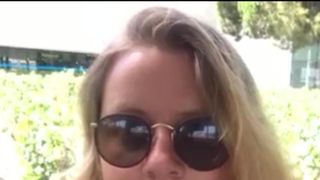 Another wrote on Facebook on 28 July: "Ryanair sent me a cheque for compensation then BOUNCED the cheque..ended up costing me 32 eu (£29) for the privilege.
"SHAME ON YOU RYANAIR. won't respond to EMAILS and OPERATOR just put the phone down on me".
A third passenger, on 9 August, said their bank assured them the cheque bouncing was Ryanair's fault so they waited an hour and 20 minutes on hold to the airline's customer service hotline but nobody could help.
They said they were still waiting for the money 11 days later.
A Ryanair spokesman told Sky News: "Due to an administrative error, a very small number of cheques (processed on 27 July 2018) were issued without a required signatory.
"Once this error became evident, these cheques were re-issued to customers along with a letter of explanation (on 15 August 2018) and we apologise again for any inconvenience caused to customers."
He added that passengers were refunded or placed on different flights and all compensation claims valid under EU laws were processed with 10 working days.
But he said EU rules state that if a strike delay or cancellation is beyond the airline's control "no compensation is payable".
"If these strikes, by a tiny minority of Ryanair pilots, were within Ryanair's control, there would have been no strikes and no cancellations," he added.
Ryanair previously claimed it did not have to pay compensation for the flights cancelled in July as they "were caused by extraordinary circumstances".
Hundreds of Ryanair flights were also cancelled on 10 August as a result of industrial action by pilots in Ireland, Germany, Sweden, Belgium and the Netherlands.