Prime minister unmoved ahead of expected Brexit vote defeat
The prime minister has told me that she will be robust with the Saudi Crown Prince, but has also dished out some of the same for her rebellious MPs.
Speaking to me at the G20 summit in Buenos Aires, she said she "hasn't seen an alternative" on Brexit to the deal she struck with EU leaders last weekend, adding that "the EU has made clear this is the deal on the table".
This will come as a shock to the DUP, large swathes of Brexiters and Remainers in her party, as well as Labour, Nicola Sturgeon, and others.
But it reflects the dire parliamentary position the PM faces, having not found the game-changer she needs neither from EU leaders or the government and Bank of England economic analyses.
Indeed, if anything, the intervention of the US president against the deal has made her situation worse.
Asked about the president's comments that this was a great deal for the EU, she was adamant: "We can do a trade deal with the United States.
"We have a working group with the United States looking at what a trade agreement with the United States might be, what it might contain once we have left the European Union.
"We can't negotiate and sign trade deals until we have left the EU, once we have we will be able to do that".
She said the period tied to a customs union in a backstop, if it came to that, would only be "temporary".
But when she meets world leaders here, I am not clear she can definitively promise them to, for example, lower the tariffs on goods without making a mockery of the backstop.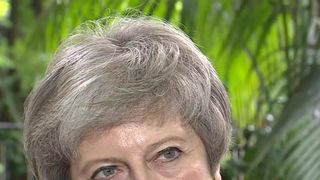 But she is still adamant that she does not want to talk about a vote she is on course to lose spectacularly, or to talk about her own future at Number 10.
She said: "This isn't just about whether this is the only plan available, its about the fact that it's a good plan, it's a good deal for the UK and it's a good deal for the UK because it protects jobs and the economy, honours the referendum and opens up opportunities for us for a better future outside the EU."
And at the very same moment, European Council President Donald Tusk said of the House of Commons: "It's clear this is the best and only deal on the table, if its rejected we will have no deal or no Brexit.
"The EU is prepared for every scenario".
Preparing for no Brexit as well as no deal – that is one way to help the PM be "robust" with her own backbenchers.