Pound volatile as MPs vote in Commons on May's Brexit deal
The Brexit-hit pound is enduring further volatility as MPs prepare to reject Theresa May's Withdrawal Agreement with Brussels.
Sterling was trading more than 1% lower on the day versus the dollar as the clock ticked down to the vote – with traders citing the likelihood of further uncertainty resulting from Tuesday's parliamentary theatre.
:: LIVE: PM May faces prospect of huge Brexit defeat
The UK currency was trading at $1.2730 at 6pm but was only slightly down against the euro – also under pressure amid fears surrounding an economic slowdown in the bloc.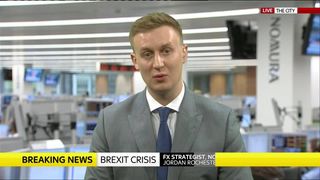 The pound has been a barometer of the Brexit process for financial markets – falling from levels just above $1.50 in June 2016 when the UK voted to leave the EU.
It has fallen as low as $1.15 since – though that was largely the result of a trading blip – with the prospect of a softer, or no Brexit, supporting the currency.
More follows…