Philip Hammond declares austerity 'finally coming to an end'
Philip Hammond has declared the era of austerity is "finally coming to an end", as he unveiled his last budget before Brexit.
The chancellor hailed a significant improvement in the state of the nation's finances, claiming Britain would see "resilient" growth in the years to come.
Mr Hammond said his third budget was about helping "the strivers, the grafters and the carers" and would pave the way for a "brighter future".
But Labour leader Jeremy Corbyn said: "The reality is that whatever the chancellor claims today, austerity is not over."
Mr Corbyn said it was a "broken promise budget".
:: Budget LIVE: Hammond and Corbyn face off over austerity
:: The 2018 budget: Our experts' verdicts
He said: "What we've heard today are half measures and quick fixes while austerity grinds on."
In an address to MPs that lasted more than an hour, the chancellor said he was promising a budget for "hard-working families" and claimed the country had reached a "defining moment on this long, hard journey" after recovering from the financial crash.
Given Prime Minister Theresa May's recent declaration that the end of austerity is in sight, Mr Hammond was under pressure to turn on the spending taps and back it up with action.
There was £1bn for defence, £650m to help councils pay for care bills, the same amount to help local authorities improve high streets, £400m for schools and £420m to fix potholes, among other spending commitments.
One of the more eye-catching announcements was a digital services tax on tech giants who have more than £500m in global revenues.
The measure, which will come into force in April 2020, will raise £400m a year.
On Brexit, Mr Hammond announced he has set aside an extra £500m for "no-deal" planning – and reiterated an emergency budget would be needed in the event of such an outcome.
He said: "If the economic or fiscal outlook changes materially in-year I reserve the right to upgrade the spring statement to a full fiscal event."
Mr Hammond told the Commons that Britain had reached a "pivotal moment" in the negotiations with Brussels and there would be a "deal dividend" if an agreement was struck with Brussels.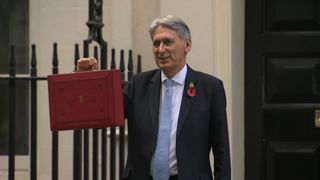 Ahead of the budget the chancellor came under pressure to increase funding for Universal Credit, the government's controversial welfare reform.
Mr Hammond said the measure, which combines six benefits into one payment and is aimed at simplifying the system, is "here to stay".
Opponents claim Universal Credit is causing financial hardship for claimants and forcing them to turn to foodbanks.
Amid disquiet over the policy, the chancellor revealed a £1bn package of measures over five years to support its implementation.
Mr Hammond also announced:
:: An increase in the National Living Wage of 4.9%, from £7.83 to £8.21 an hour from April 2019
:: A rise in the income tax personal allowance to £12,500, also from April 2019
:: The higher rate income tax threshold will rise to £50,000 at the same time
:: A freeze on the duty for beer, cider and spirits. Wine to rise with RPI; a new higher tax on "white ciders"
:: A fuel duty freeze for the ninth year in a row
:: Stamp Duty abolished for first-time buyers of shared ownership homes up to £500,000 – retrospective to last November
:: A cut of a third in business rates for shops, pubs, restaurants and cafes in England with a rateable value under £51,000.