Offer better pay to halt teacher shortages, report says
Higher salaries are needed to lure more people to become maths and science teachers in England.
Financial supplements should be given to those who teach subjects where there is a shortage in staff, according to a study.
A new study by the Education Policy Institute (EPI) warns the country is struggling to recruit and retain enough teachers – particularly in subjects such as science and maths.
The report found there has been around a 10% increase in pupil numbers since 2010.
However, teacher numbers have remained steady and teacher training applications are down by around 5%.
The report also found that many teachers are quitting in the early stages of their career.
Some 60% of teachers remained working in state-funded schools five years after starting, the EPI calculated.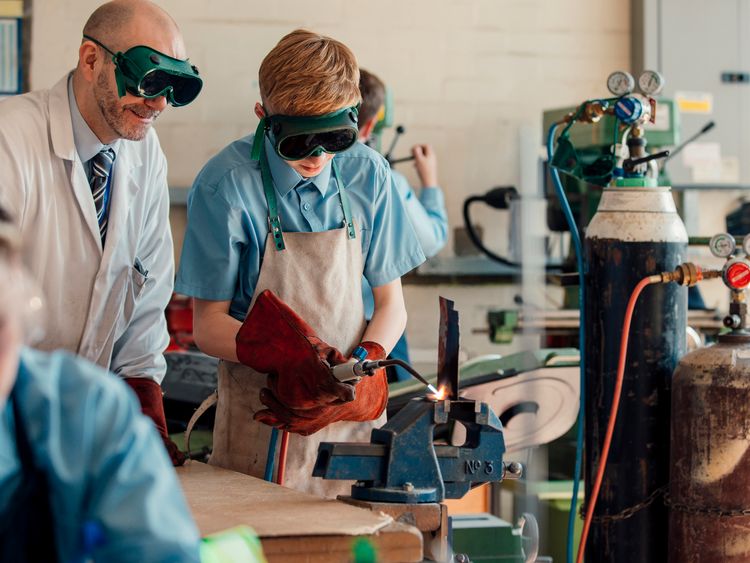 Only half of those who taught physics and maths stayed on after their first five years in the role.
The study reports that teacher pay has dropped by around 10% in real terms over the last eight years.
It noted that a 3.5% pay rise for teachers from next month has been announced by the government.
The study argues there is "a very strong body of evidence from the US that suggests modest salary supplements in maths and science subjects (around 5% of gross salary) can be highly effective in reducing teacher attrition".
"More generous bonuses (around $20,000-$25,000 [£15,000-£20,000]) have been found to be effective in incentivising existing teacher to move to high-poverty areas," it adds.
"Schools in England already have the freedom to make such salary supplements, but have been rarely making use of them to date."
:: 'Crisis brewing' as rising number of teachers quit the classroom
The report said the teacher shortage problem appears worse in subjects where graduates can earn more outside of teaching, such as physics, maths, chemistry and languages.
"This appears to translate into differences in teacher quality in such subjects, with fewer teachers possessing a relevant degree in the subject they teach," the study said.
Less than half (46%) of secondary school maths teachers and 50% of those teaching physics have a relevant degree, according to the EPI's analysis of government data.
Report author Luke Sibieta said: "The teacher labour market is suffering from a number of severe shortages, especially with graduates, who are often able to earn much more in other roles.
"Many priority subjects such as maths and science are failing to attract enough highly-qualified professionals."
He added: "There is strong evidence that these pressures can be alleviated by targeted salary supplements.
"Policy-makers have begun to consider this potential solution, yet so far proposals have been far too modest, and exclude many of the areas most in need.
"The government should therefore roll out a more ambitious scheme which offers incentives to teachers in a greater number of shortage subjects, covering more areas."
A Department for Education spokeswoman said: "The education secretary has been clear that there are no great schools without great teachers and his top priority is to make sure teaching remains an attractive and fulfilling profession.
"There are still more than 450,000 teachers in our classrooms, 11,900 more than in 2010, and increasing numbers are returning to the profession.
"We recently announced a fully-funded pay rise for classroom teachers and we are working with school leaders and unions on a strategy to drive recruitment and boost retention of teachers and strip away unnecessary workload.
"This is on top of the range of financial incentives we already offer to help attract the brightest and best into our classrooms."