Not enough letters to trigger confidence vote as far as I know
Theresa May has told Sky News that as far as she knows, there are not enough letters from Conservatives MPs to force a no-confidence vote.
Speaking to Sky's Sophy Ridge, she said the chair of the 1922 backbench committee will make it known if he had received the required 48 letters from Conservative MPs – which could lead to a leadership election.
It comes as Mrs May fights to get her cabinet, parliament and the country to back the Brexit agreement she has struck with Brussels.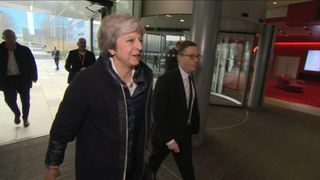 Pressed on whether the 48-letter limit had been reached, Mrs May said: "As far as I know, no."
She dismissed the relevance of talk about her future, adding: "What this is about is not us – it's about people out there."
Mrs May reiterated that the much-discussed backstop plan contained within the deal did not mean the UK could be locked into an arrangement that was not in Britain's interest.
When Sophy Ridge asked: "Is the backstop like the 'Hotel California', you can never leave?", Mrs May said: "You can leave."
She compared the backstop to taking out an insurance policy, saying people wouldn't want the insurance company to be able to "pull the plug" and leave someone unprotected.
It is a "backstop we never intend to use", she said, adding: "Were it to have to be used, both sides can review it".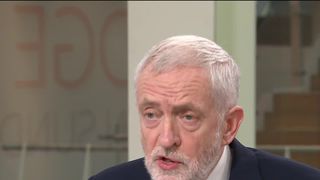 The key time would be over the next seven days, she said, when her negotiators would be going back to EU officials and hammering out the "future relationship".
She will also be visiting Brussels, she added, and will talk to EU Commission president Jean-Claude Juncker as part of the week's discussions.
Earlier, Jeremy Corbyn told Sky News a second EU referendum was an "option for the future, but not an option for today".
Quizzed by Sky's Sophy Ridge, Labour's leader said he didn't know what question would feature in a referendum.
Asked how he would vote today if he could, he said: "I don't know."
Mr Corbyn also admitted he had not read all of Theresa May's Brexit agreement, saying "I've read a lot of it".
He added that he had read many of the summaries and analyses.
Much of the reason he said he wouldn't support Theresa May's deal was because it was "vague" and did not say enough about workers rights and environmental protections.
He suggested he would support a deal like that struck by the prime minister if it addressed those concerns.
More follows…