No deal is Brexit default position
MPs who want to prevent a "no-deal" Brexit will have to vote for Theresa May's deal or find another one, the Commons leader has warned.
Andrea Leadsom has told colleagues no deal is the "legal default position" if the UK leaves the EU in March without a deal in place.
In an interview with the Sunday Telegraph she gave her support for a "managed no deal", which would see the UK reflect EU rules during an implementation period while making several mini deals on aviation and trade.
Mrs Leadsom's plan would be an alternative to Mrs May's deal should it not pass through the Commons.
Three Conservative MPs – Nick Boles, Anna Soubry, and Sarah Wollaston – have said they will resign the whip if a no deal Brexit becomes official government policy.
Justice Secretary David Gauke suggested he would also quit the government in those circumstances.
But Mrs Leadsom said the government would have to prepare for a variety of outcomes and if parliament does not want a no deal, MPs should vote for the prime minister's plans.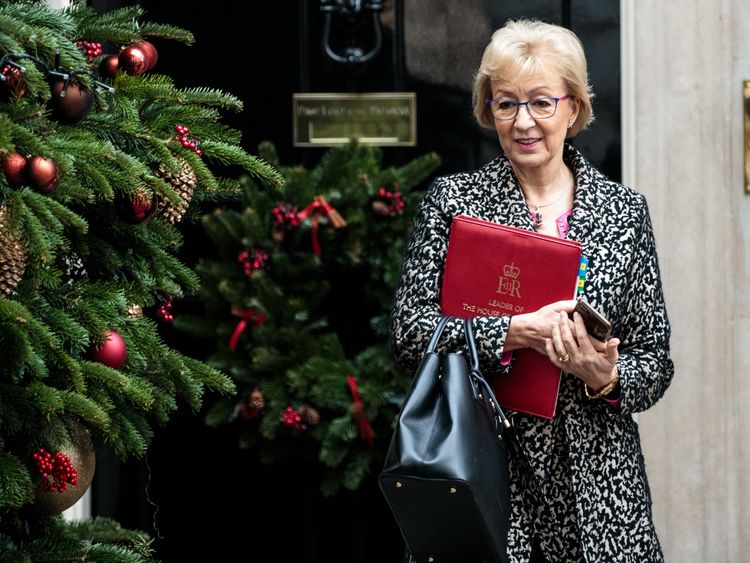 She said: "Parliament can always of course express a view, but in order to avoid a no-deal Brexit, parliament does need to vote for a deal.
"The legal default position is that if there isn't a deal then the UK leaves the EU in March 2019 without a deal."
Although Mrs May has delayed the vote on her Brexit deal until January, it is still unlikely to make it through the Commons with MPs in nearly every party divided over the vote.
Former chancellor George Osborne attacked the Conservative Party in a Radio 4 interview, insisting Tories had to engage with modern Britain or face losing power.
The editor of the Evening Standard said Mrs May had quietly backed Remain in the referendum and now had to push a "Brexit means Brexit" ideology to prove her credentials.
He said: "That was essentially a massive mistake by the Conservative administration, which it was punished for at the general election because the Conservative Party decided to embrace the Brexit result in such a way as to essentially dismiss the views of those who voted Remain, treat them as saboteurs or traitors, and run against urban Britain."
He also attacked the "reckless decision of the hard Brexiteers" to pursue no deal, saying: "I don't think the country voted to mobilise the Army, stockpile medicine, hoard food and go around the world buying every fridge available.
"That is not what was offered and that is now what is happening."