Most wanted child abuse suspect arrested in Spain
A suspected child abuser from Wales who was one of Europe's most wanted fugitives has been arrested in the south of Spain.
David Daniel Hayes had been missing for more than three years, having disappeared while on bail after making his first court appearance in 2015.
He had been put on the fugitive list after he failed to appear in court to answer serious child sex offence charges.
Hayes boarded a plane from Liverpool to Amsterdam in May 2015 and had not been seen since.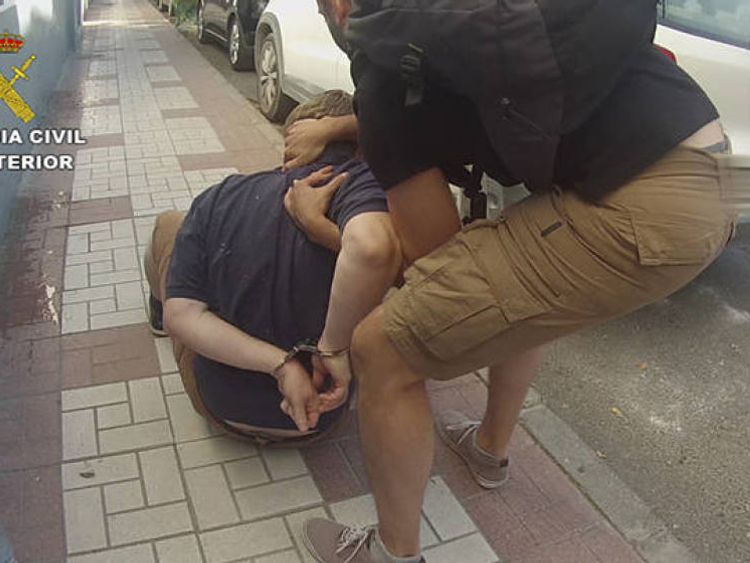 North Wales Police had made a number of appeals – most recently in June – before Europol revealed on Friday morning that the Spanish Civil Guard had taken the 39-year-old taken into custody.
The force retweeted a video of the suspect, a former press officer from Anglesey, being arrested by their officers in the city of Granada on Wednesday.
Hayes was charged with nine sexual offences against two children in the UK, but the Civil Guard said he had been traced following allegations he had committed similar crimes against youths in Granada.
He is said to have carried them out during private English classes, which he advertised online.
The Civil Guard said he was arrested after "exhaustive surveillance" carried out on homes, hostels and B&Bs in the area, and he will appear in court in Madrid before extradition efforts begin.
Detective Constable Tim Dobson, investigating officer at North Wales Police, said Hayes "mistakenly believed he could avoid police and the courts by fleeing the country following charge".
He added: "With the tenacious and determined efforts of those involved in the hunt for him, we have been able to ensure that he will now face trial in relation to the offences he has been charged with and hopefully he will be brought to justice."