Ministry of Defence to investigate suicide rates among Iraq and Afghanistan war veterans
The Ministry of Defence (MoD) is to investigate suicide rates among veterans of the wars in Afghanistan and Iraq.
All causes of death among troops are to be considered as part of the research, but cases where servicemen and women have taken their own lives will be the focus.
Defence minister Tobias Ellwood announced the study amid an investigation by The Sunday Times, which has found that 42 current soldiers are believed to have killed themselves this year.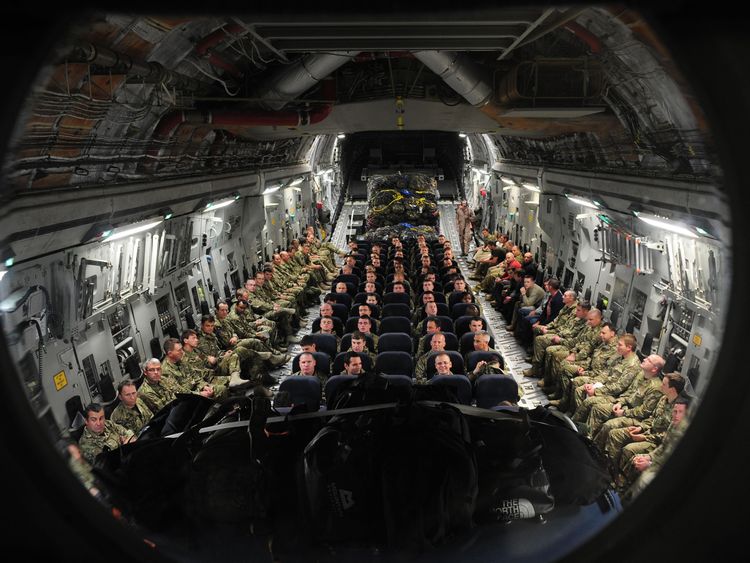 Mr Ellwood said: "Our armed forces do a magnificent job, and we owe a huge debt of gratitude to each man and woman who has laid their life on the line to keep our country safe.
"Most transition successfully into civilian life once they have put away their uniforms, but we cannot afford to be complacent. Mental health problems can affect us all, and the wellbeing of our people remains a top priority."
There have been growing concerns about mental health problems experienced by current troops and veterans, which have surged over the last decade.
In July, the House of Commons defence committee published its latest report on the scale of the issue, warning that the number of armed forces personnel seeking help had nearly doubled since 2008.
Official MoD figures showed that 3.1% of those serving had been diagnosed with mental health conditions, which was twice as many as in 2008/9.
But the number of veterans suffering from post-traumatic stress disorder or depression could be three times higher because many do not seek help due to the stigma surrounding mental health, the report added.
Many of those in need of treatment had been deployed to Afghanistan or Iraq, with the report noting that being involved in combat there "clearly increased the likelihood of mental health conditions".
But it also said that most servicemen and women left the military with no such problems, and that it would be "harmful" to suggest that they did.
:: Anyone feeling emotionally distressed or suicidal can call Samaritans for help on 116 123 or email [email protected] in the UK.