Manchester United unveil pink away kit as tribute to city's defunct sports paper
Manchester United have unveiled their first ever pink kit as a tribute to the city's now defunct sports paper.
The side, which usually plays in red, have picked a lighter shade for their away games to remember the Manchester Evening News publication The Football Pink.
The city's regional daily released the sports paper every Saturday afternoon until its closure in 2007.
Monday's matchday programme for United's clash against Tottenham included a wrap-around with the headline "The Pink is back!"
The front page of the United Review read: "Its legacy endures and this season The Pink rides again.
"Not just in the hearts and minds of the fans, but on the backs of their heroes too."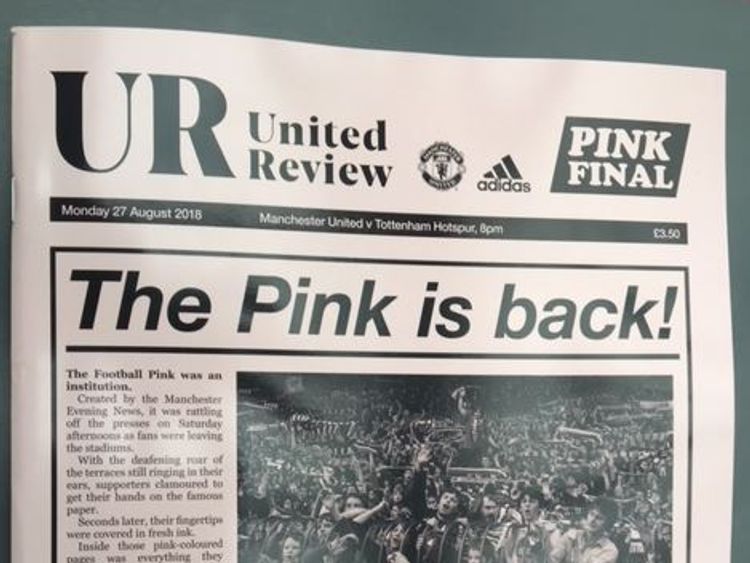 United will wear the shirt for the first time when they play Burnley on Sunday, the Manchester Evening News reports.
It is expected the kit will be worn whenever the team plays away and there is a chance their normally red and black kit clashes with that worn by the home side. The team also wears a 'third' kit in all black.
Hundreds of United fans are reported to have already got their hands on the Adidas pink shirt after it was temporarily put up for sale between 28 and 29 August.
Club legend Bryan Robson was on hand at the Adidas store on Market Street, Manchester, to pose for selfies with fans and serve customers.
The shirt will go on general sale on 13 September.
The Reds lost 3 – 0 at home to Tottenham on Monday.
It is the first time they have lost two of three opening Premier League games since 1992, putting pressure on their manager Jose Mourinho.