Man who stole car from funeral directors and drove around with 17 inch 'Rambo' knife jailed
A man who stole a car from a funeral directors and drove around with a 17-inch "Rambo" knife has been jailed, police have said.
Abdel Medjebour, 19, was sentenced to 20 months in prison at Blackfriars' Crown Court on Thursday.
On 15 June, he was stopped by police while driving a black Ford Galaxy while driving out of the Maiden Lane estate on in north London.
When officers got out of the police vehicles and indicated for the occupants to get out, the car reversed backwards and then forwards, endangering the officers.
Medjebour and three other occupants tried to run away from the car but they were detained by officers.
Police searched the car and found a 17-inch "Rambo style knife" wedged between the front passenger seat and the central console.
They also discovered a number of leaflets in the vehicle related to a funeral directors.
The funeral directors confirmed to police that the company's Ford Galaxy had been stolen a week before in East Finchley.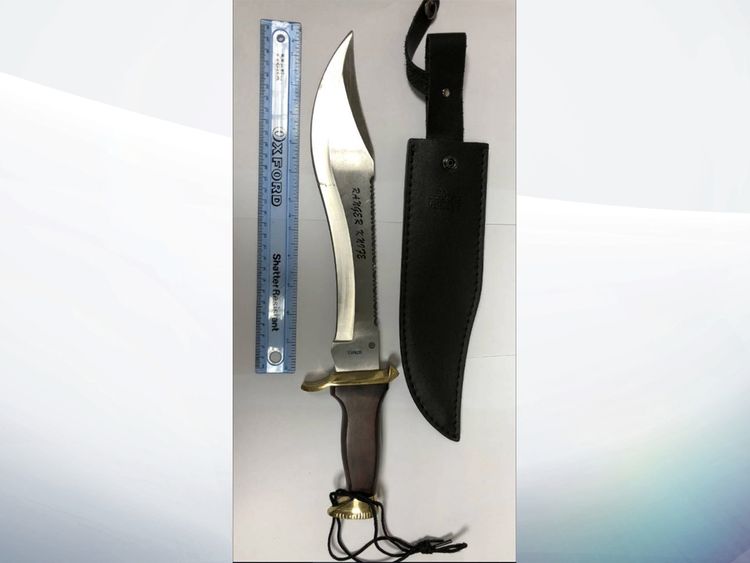 The car was displaying false number plates, and when officers checked the VIN plate for the vehicle, it confirmed that the registered owner of the car was the funeral directors.
Four men, all aged 19, were arrested including Medjebour.
Medjebour was already known to the police with a previous conviction for affray, and was given a two-year driving ban from March 2016.
After his arrest, the DVLA confirmed he had not applied for any driving licence including a provisional – which he needed to be able to carry out a test – meaning he was still banned from driving.
This week, he pleaded guilty to driving whilst disqualified, driving and taking away a vehicle and possession of a bladed article.
Acting Detective Sergeant Ben Jefford, of the Violent Crime Taskforce, said: "On stopping the vehicle, a knife was found, which we believe Medjebour was going to use to commit serious violence.
"This conviction shows we will hit criminals hard and do everything we can within the scope of the law to prevent them from targeting law-abiding Londoners."