London Luton ranked UK worst airport for third consecutive year
London Luton has been ranked the UK's worst airport after customers complained about its toilets, staff and bag-drop queues.
Luton ranked bottom of an annual study by Which? for a third consecutive year, scoring just 35% by receiving the lowest rating for half of the categories assessed.
An airport spokesman said its own research found that 70% of passengers were "happy with their experience".
While Luton was ranked as the worst overall airport, London Heathrow was the highest-rated major airport, scoring 63%.
The Which? survey was based on 11,265 passenger visits to UK airports, taking into account factors such as the range of shops and food outlets, toilet hygiene and the amount of seating available.
London Stansted and Manchester T3, among the biggest airports in the UK, both gained just one star out of a possible five for the length of queues at security.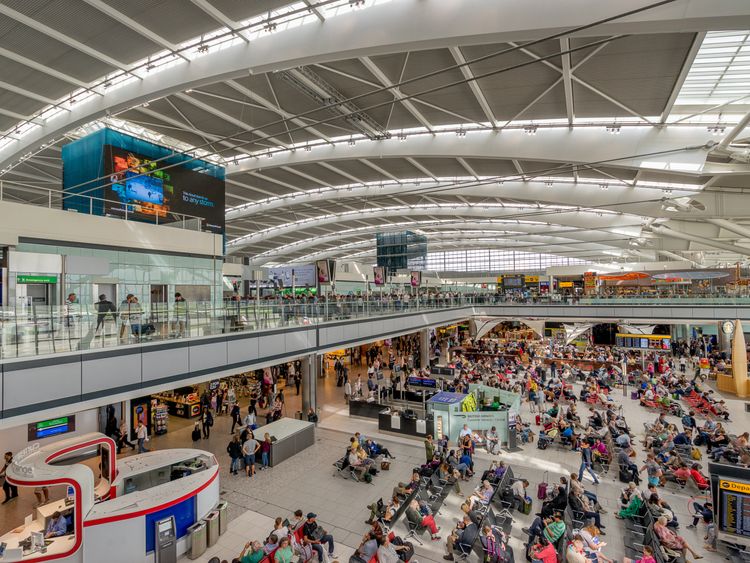 Meanwhile, customer satisfaction ratings soared at smaller airports.
Doncaster Sheffield earned the overall highest score of 87% as passengers were particularly impressed with its security queues, baggage reclaim, prices in shops, seating, toilets and staff, which were all given five stars.
London Southend was closely behind with 84%, followed by Newcastle (74%) and Southampton (49%).
Cardiff received a score of 64%, while Belfast International and Belfast City were given 50% and 62% respectively.
The best score out of Scotland's airports was earned by Inverness with 68%, while Aberdeen received the lowest with 49%.
"Travellers want to start their trips in the smoothest way, but long queues through airports and a lack of facilities can cast a rain cloud over any getaway," said Rory Boland, editor of magazine Which? Travel.
He advised passengers to choose Southend over Luton and Doncaster Sheffield or Liverpool instead of Manchester if smaller airports are an option.
London Luton chief executive Nick Barton said that Which? polled 521 of its customers during a period when the airport was going through developments from May 2017.
"During this time we've undergone a period of significant change, investing £160m redeveloping the airport to increase capacity and transform the passenger experience.
"In the first six months of 2018 alone, 1.2 million passengers responded to our customer service tracking, 70% of whom told us they were happy with their experience."
Top 5 worst UK airports compiled by Which?
:: London Luton (£35%)
:: Manchester Terminal 3 (44%)
:: London Stanstead (44%)
:: Manchester Terminal 1 (46%)
:: Aberdeen (49%)