Irreverent Tory peer and Bletchley Park code-breaker dies at 96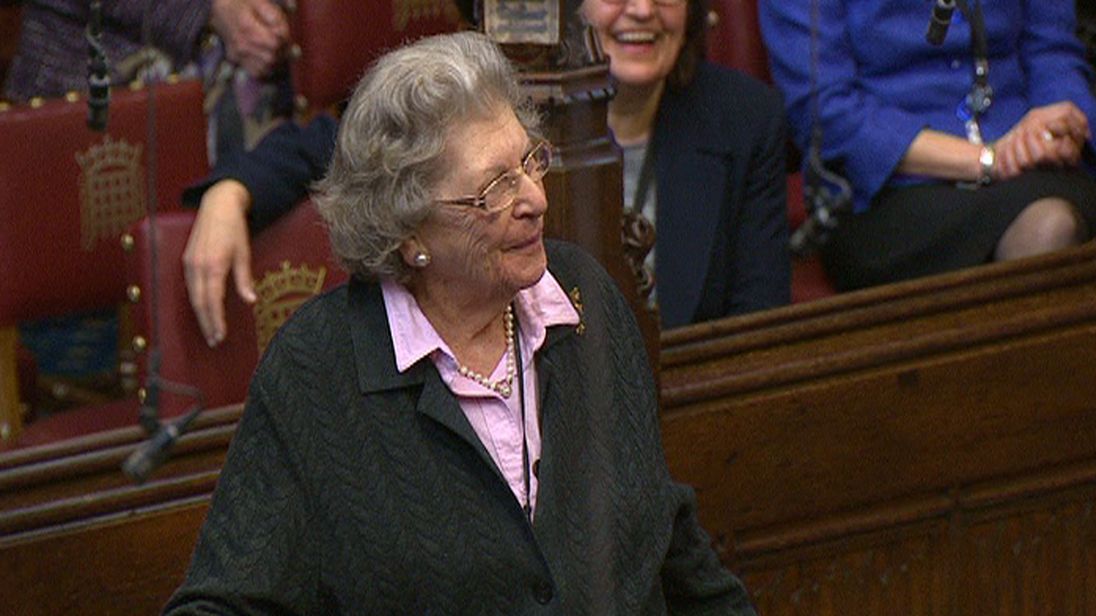 The Bletchley Park code-breaker who became famous for flicking two fingers up at a fellow Tory peer has died at the age of 96.
Baroness Trumpington spent 37 years as a Conservative peer and also served as a minister and government whip.
She only stood down from the House of Lords last year.
Her son Adam Barker announced on Monday afternoon that she had died in her sleep after a "bloody good innings".
Baroness Trumpington was born Jean Alys Campbell-Harris in October 1922 and was educated privately in England and France.
She worked as a land girl on the farm of former prime minister David Lloyd George during the Second World War.
"I hated being a land girl," she later said. "There were only old men there. The young men had joined up. And it was all apples – no animals."
Later she moved to naval intelligence at Bletchley Park, working as a cypher clerk transcribing messages from German submarines for the code-breakers.
She later remembered the work as being "deeply tedious".
After the war she married Alan Barker, who later became headmaster of the Leys School.
She began her political career as a councillor in Cambridge, becoming mayor in 1971.
In 1980, she entered the House of Lords, where her most famous moment came in 2011: she was caught on camera flicking a V-sign at a fellow Tory peer over what she perceived as a rude remark about her age.
MPs described her as a trailblazer and an inspiration.
International development secretary Penny Mordaunt celebrated her as a "trailblazer, heroine and an utter joy".
"Deepest sympathies to all who knew and loved this incredible woman," she wrote.
"Socialite, mother, Bletchley Park code-breaker, Baroness, minister, trailblazer, heroine and an utter joy."
James Cleverly, deputy chairman of the Conservative Party, tweeted: "So sad to hear that code breaking, two finger wagging, Baroness Trumpington has passed away.
"Ma'am, we salute you."
Tim Farron, former Liberal Democrat leader, said she was "admirable, decent and unique".
Baroness Sayeeda Warsi described her as a "huge inspiration", adding: "She always had time to deliver a good telling off, give advice or pay a compliment. I had the privilege of being at the receiving end of all three!"