Iranians smuggled to Britain 'by skilful saliors'
The owner of a fishing boat stolen in France and used to smuggle 17 Iranians to Britain has told Sky News he thinks experienced sailors must have been involved.
Pascal Deborgher has just got his boat, called L'epervier, back from officials in Dover. It was stolen two weeks ago.
We tracked him down to a repair yard in Boulogne where he admitted he may inadvertently have helped the smugglers by leaving the key in the engine – something which he says is common practice among fishermen.
But he said whoever skippered the crossing knew enough to operate the boat without raising the attention of the French coastguard and was skilful enough to navigate a low tide.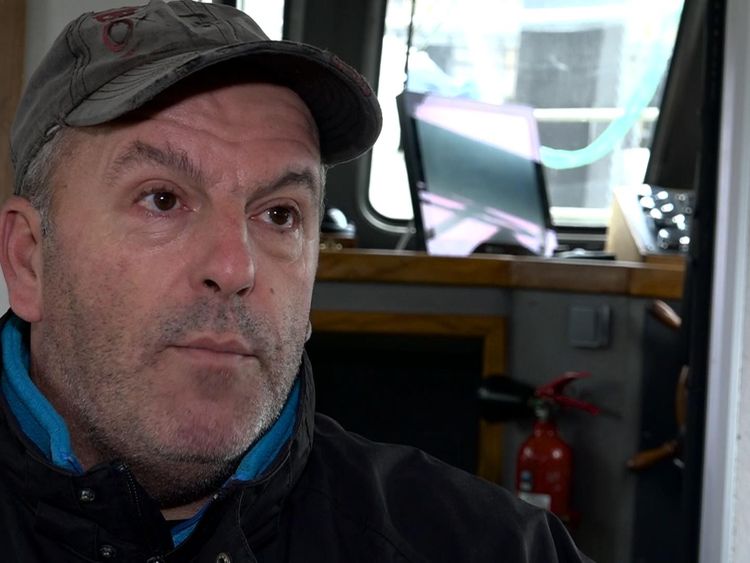 He also said the AIS tracker system, which identifies the boat, had not been disabled.
Mr Deborgher said: "It's complicated driving a boat, after all. It's not easy, there are a lot of things to do.
"Stealing, it is easy. Sailing, it is not.
"Add to that, the night of the theft, there was a low tide, therefore there are particular channels you have to follow and you need a prior knowledge of the sea.
"So not only did there have to be someone amongst them that knew about fishing and this stretch of sea, but since there's a lot of money involved, there must have been a smuggler involved."
It's the first time a boat of this size – 15 tonnes – has been stolen by migrants in northern France. The last big boat anyone can remember being taken was a fishing boat 10 years ago.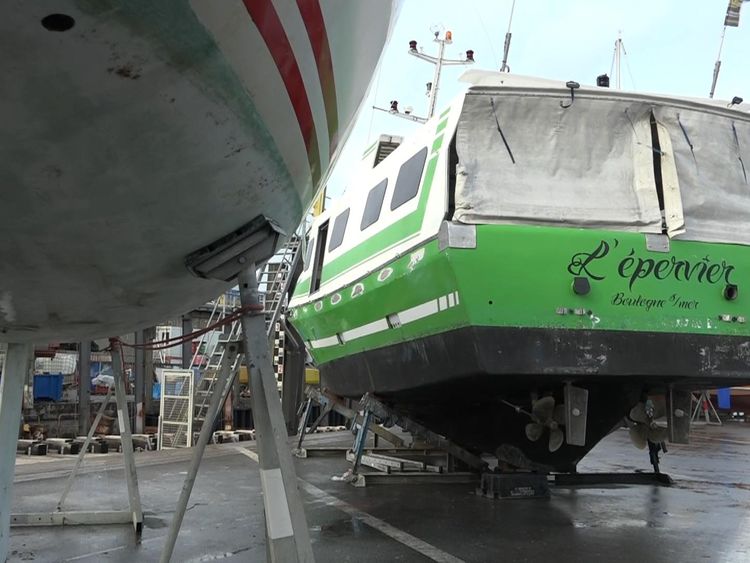 A spate of recent boat crossings by Iranian migrants has involved smaller vessels such as dinghies.
Mr Deborgher said: "They take a lot of risks doing it, particularly if there's a bit of wind or fog, or worse, a large boat bears down on them. It's really risky. But they are not afraid of the crossing so they are not afraid of stealing a boat or anything to make the crossing. They just want to get to England."
At the migrant camps around Calais there's lots of chatter about trying to cross the channel to England by boat.
Sky News spoke to a number of Iranians – including one who had recently tried to make the perilous journey in a boat which had capsized.
Another said he had been told he could be taken to England in a boat for several thousand pounds.
He said: "There is a Frenchman and you pay 3,000 or 5,000 euros. And he will give me a boat for going to the UK. It's not difficult. It's dangerous but not difficult. Truck is very difficult. Frenchman give me boat. My friend knows the Frenchman."
The captain of the stolen L'epervier told us the theft of his boat has cost him around 30,000 euros in repairs and lost earnings. Even so, he retains some sympathy with those who took from him.
"Of course I am cross, it's my boat they stole and it was me who had the inconvenience of getting it back," he said.
"But then you have to ask yourself if it was me who was at war and I was having to live as a refugee somewhere I reckon I would do the same thing. I think everyone would do the same."