'Huge potential' for motorway gridlock as millions hit the roads
Drivers have been warned that motorways across the UK are likely to experience Bank Holiday gridlock as millions of cars hit the road for the long weekend.
According to RAC research, more than 11 million Britons are set to take to the tarmac for leisure trips between Thursday and Monday, with a whopping 3.6 million cars out and about on Friday and Saturday alone.
Some journeys are expected to take almost four times longer than normal as people embark on late summer getaways, with the sheer number of vehicles offering "huge potential" for congestion on major roads.
Traffic information supplier Inrix predicts that the M5 between junctions four and one in the West Midlands will be the most delayed route, with typical travel times of 21 minutes to leap to upwards of an hour on Friday afternoon.
Journeys could also reach the hour mark between junctions 22 and 25 of the M1 in the East Midlands on Saturday.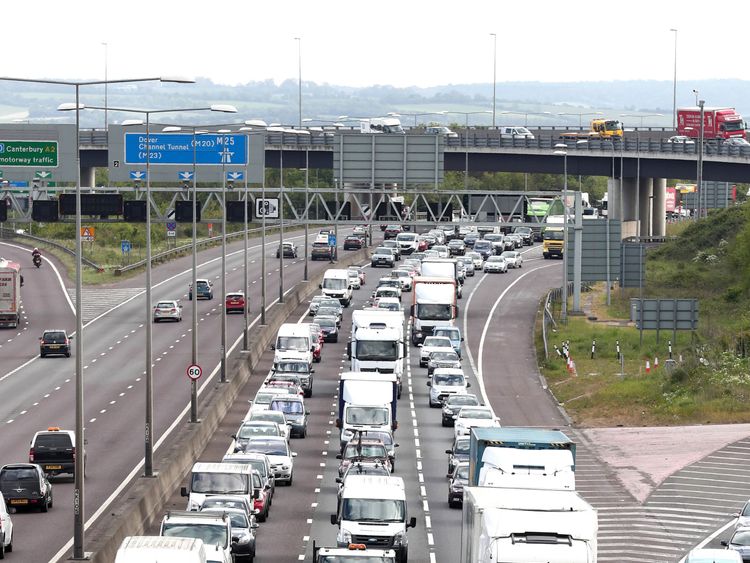 Other stretches of road where jams are anticipated include the M20 from junction nine to junction three between 7.30am and 9.30am on Friday, the M6 from junction 28 to junction 32 between 12pm and 3pm on Friday, and the M5 from junction 22 to junction 20 between 2pm and 4.30pm on Saturday.
RAC traffic spokesman Rod Dennis said the Almondsbury interchange in Bristol, where the M5 meets the M4, was "the perfect recipe for a long wait on the motorway".
The likelihood of problems could be exacerbated should there be any delays in the planned completion or lifting of hundreds of miles of roadworks before the end of the week.
Highways England is preparing to halt more than 300 miles of roadworks from motorways and major A roads from Friday morning, but any setbacks could cause misery for holidaymakers and commuters alike.
Inrix is advising motorists to set off between 10am and 1pm on Friday to avoid a potential clash with people heading to work, but on other days they should leave as early or as late as possible.