Hot weather increases food costs as shop prices increase for the first time in 5 years
Retail prices have risen for the first time in more than five years as a UK summer heatwave sent the cost of fruit and vegetables soaring.
According to the latest figures from the British Retail Consortium, overall shop prices rose 0.1% in August – moving into inflation territory for the first time since April 2013.
The price rise comes after food inflation jumped to a seven-month high of 1.9% in August, as the recent hot weather hit UK crop output.
Farmers' yields have also been impacted by rising costs of oil and agricultural products on global markets, according to the BRC.
BRC monthly data showed that fresh food inflation grew to 1.5% in August, up from 1.2% in July and the highest for seven months.
Ambient food price inflation rose to 2.5% in August, up from 2.2% in July.
But the lowest rate of deflation for non-food items for more than five years also led to the return of shop price inflation, the BRC-Neilsen shop price index noted.
It said non-food price deflation shrank to 1% in August, down from 1.4% in July to the lowest level since April 2013, as strong demand for summer products came earlier in the season, reducing the need for retail discounting.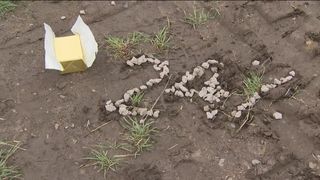 The figures from the BRC-Neilsen shop price index were released two days after the Centre for Economics and Business Research (CEBR) predicted that household food bills are set to rise 5%, equating to an estimated £7.15 a month, as a result of the UK's extreme weather in 2018.
The CEBR said that this year's scorching summer – and the preceding cold, wet winter that included the Beast from the East in February and March – had affected domestic farming yields, which in turn would impact prices.
The centre's research said that a range of British-grown fruit and vegetables such as strawberries, carrots and lettuce as well as wheat would be more expensive, with wholesalers already paying nearly double for some staple items.
The overall shop price inflation figure compared with deflation of 0.3% in July, according to the BRC-Neilsen shop price index .
The consortium said shop price inflation still remains well below the wider rate of consumer price inflation – which currently stands at 2.5%.
Helen Dickinson, chief executive of the BRC, said: "Despite significant increases in costs in the supply chain, this month's figures show that retailers are keeping price increases faced by consumers to a minimum.
"However, current inflationary pressures pale in comparison to potential increases in costs retailers will face in the event the we leave the EU without a deal."
"The EU and UK negotiating teams must deliver a Withdrawal Agreement in the coming weeks to avoid the severe consequences that would result from such a cliff edge scenario next March," she said.