Heavy rain and high winds post-heatwave 'a blip'
More torrential rain and high winds battering parts of the UK following the prolonged heatwave are a "blip" in the hot summer weather, according to forecasters.
Sky News' weather team says the weekend thundery downpours and gusts of up to 50mph, that caused widespread travel disruption or holidaymakers, are "the exception rather than the rule".
A yellow weather warning for wind and rain is in place for southern England and Wales.
Parts of the Brecon Beacons and Dartmoor could see up to 80mm of rain.
:: UK weather – The latest Sky News forecast
Flooding is possible and large waves are likely in coastal areas, the Met Office said, and warned of possible damage to campers' tents.
Saturday was the first day in July that nowhere in the UK reached at least 25C (77F), marking a 10-degree drop from Thursday which saw the hottest day of the year so far.
As thunderstorms brought the first significant downpours for weeks to the UK, more than a month's-worth of rain fell at Belfast International Airport on Saturday afternoon, as severe weather caused disruption for travellers across the UK.
Sky News' weather presenter Jo Edwards describes the weekend downpours as a "blip" in this year's British summer.
"A few drops of rain and suddenly the last five or six weeks-worth of settled, sunny hot weather seem like a mirage in the desert," she said.
"In reality, it's this weekend that is the blip.
"The hot sunny weather is the norm this year. A blocking weather pattern dominates and that means that the welcome rain from this Atlantic escapee is the exception rather than the rule."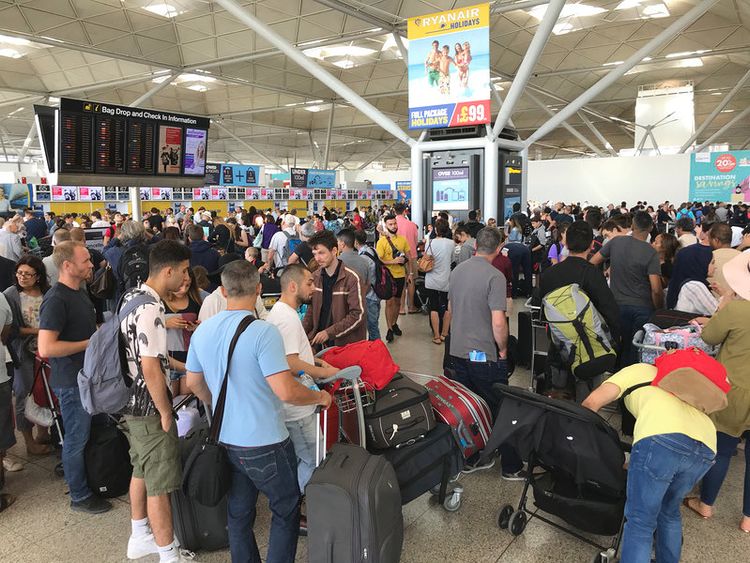 While the start of the week will continue to see some outbreaks of rain, the latter half going into the weekend is is likely to see the return of fine weather.
Looking further ahead it is likely to become very warm with a chance of hot conditions developing again, especially across the South.