Harry and Meghan honour inspiring sick children at WellChild awards
Harry and Meghan have honoured inspirational children who lead normal lives despite battling serious conditions.
The Duke and Duchess of Sussex met the winners of the WellChild awards, which aim to recognise the achievements of youngsters with serious health problems and the medical staff who treat them.
Matilda Booth, who has spina bifida and is paralysed from the chest down, chatted to the pair as they attended the ceremony.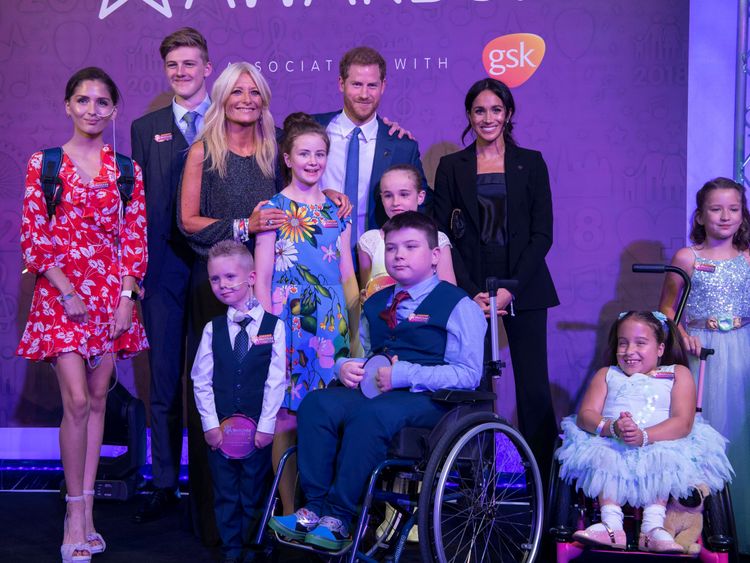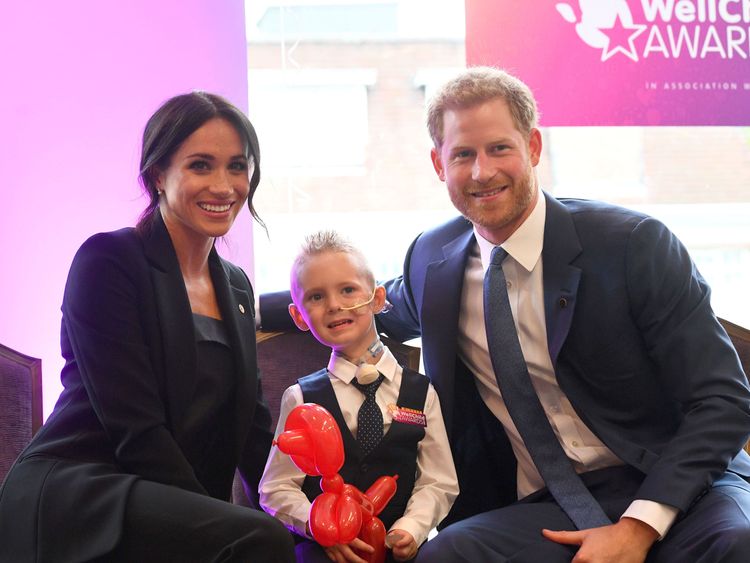 Meghan gave Matilda a rose from a bouquet the youngster had just handed to the Duchess.
Harry, not to be left out, made a "pinky pledge" with Matilda before the awards ceremony began, hooking his little finger around the girl's.
Sharon Booth, 47, who lives with her daughter Matilda in Sowerby Bridge, West Yorkshire, said afterwards: "Matilda chose the flowers, she was shell-shocked to be given the rose, she said she's going to put it in her memory box."
She added that Harry had urged her daughter, who wants to be a nurse, to "never stop smiling as you've got a beautiful smile".
Matilda, who won the inspirational child award in the four- to six-year-old category, introduced them to her soft-toy pug dog, who she said was named after talent show host Simon Cowell.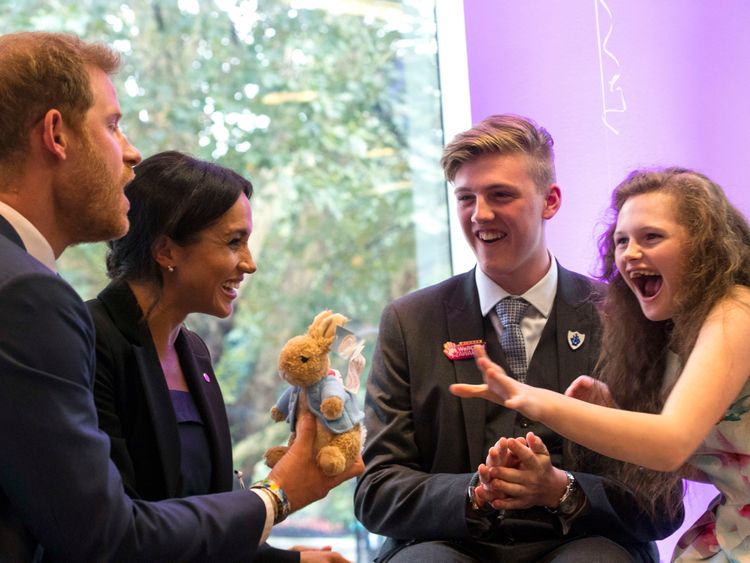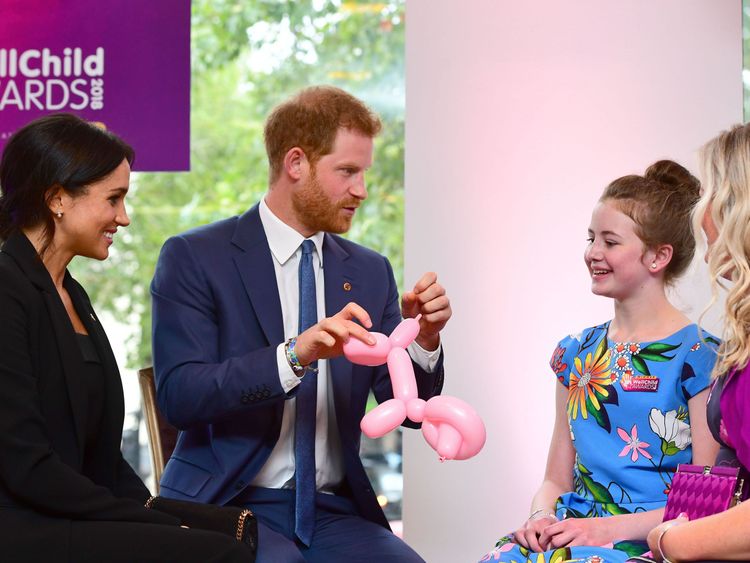 Mrs Booth added that the Prince had told her daughter he could "see the resemblance" to the pop mogul.
The royals also met Melissa Granger, 15, from St Helens, who has Angelman syndrome.
The teenager, who needs 24-hour care, hugged Harry and Meghan alongside her brother Jacob, 18.
He was presented with the most caring young person award for helping to look after his sister.
Attendee Ruby Joslin-Smith playfully pulled Harry's tie when he and the Duchess came over to say hello.
At the end of the event, Harry and Meghan met the children's choir from award-winning Riverside School, which caters for pupils with special needs in St Mary Cray, Orpington.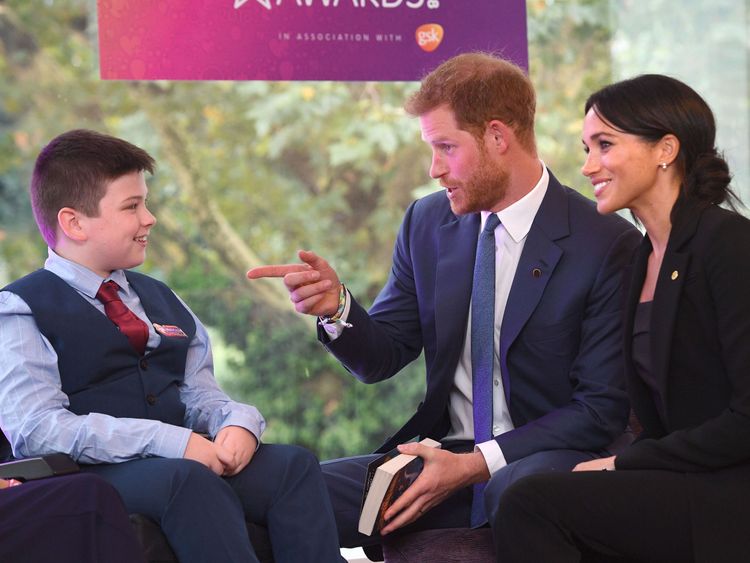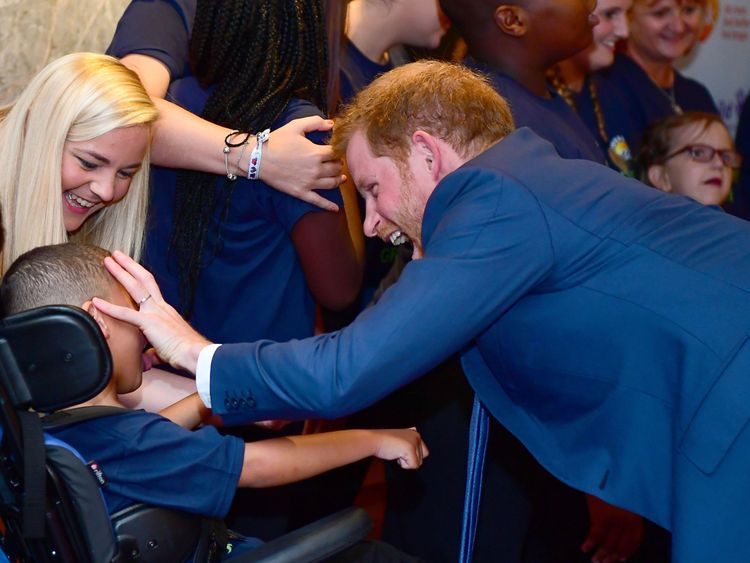 Harry attended the event as patron of WellChild – the national charity for seriously ill children and their families – which he has supported since 2007.
He wrote in the foreword for the programme for the night's event: "This evening, we are celebrating remarkable stories of hope, resilience and selflessness.
"The children and young people you will meet tonight are coping with challenges few of us can imagine, yet they inspire those around with such positivity and determination every day."
And he praised health professionals who help the children the charity was honouring, saying they "have dedicated their lives to giving children and young people with serious health needs the very best chance to thrive and flourish".
Describing the young people who live with long-term healthcare needs, he said: "With WellChild's help they can be cared for at home instead of living in hospital, and families can be properly supported."
The Duchess wore a trouser suit by Altuzarra and a Deitas blouse.