Government considers crackdown on airport drinking in bid to tackle disorder
Drinking at airports could be restricted in an attempt to cut incidents of disorder fuelled by booze.
The government has launched a consultation on changing the rules around the sale of alcohol at airports in England and Wales.
In its call for evidence, the Home Office reveals it wants to know what the effect would be of making the 2003 Licensing Act apply to airports.
This would bring them into line with other premises selling alcohol.
In practice, this could potentially mean an end to early morning airport drinking and hours more in line with pubs and restaurants.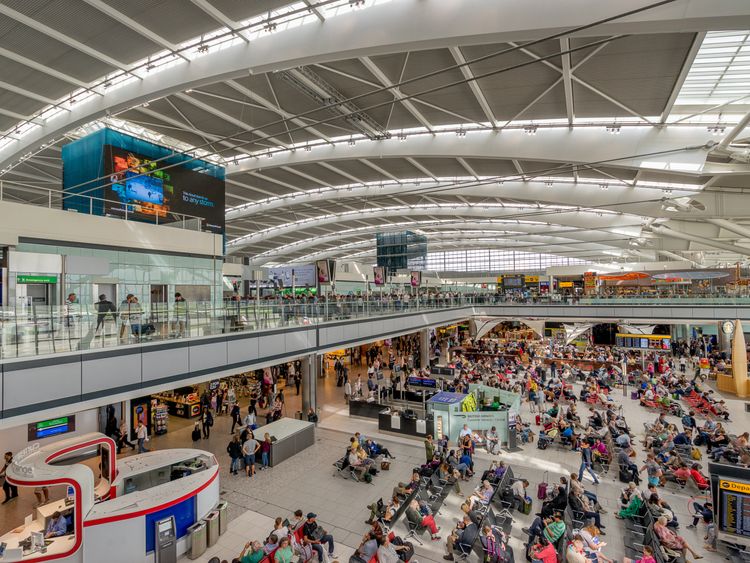 According to the Civil Aviation Authority, there were 422 incidences of disruptive passengers at UK airports in 2017.
Airlines say alcohol is "by far the single largest factor" in such incidents.
The government says it wants to assess:
:: The true scale of the problem of drunk and disruptive passengers at airports.
:: The extent to which airports and airlines use effectively the existing statutory powers and other measures to address the problem.
:: The impact of these interventions as well as the proposed application of the Act.
Contained in the 49-page call to evidence is a hint the government could go even further in trying to tackle the problem.
It asks what is stopping airlines and airports introducing "further and stricter measures", like banning the sale of miniature bottles of spirits, limiting the availability of alcohol to passengers at certain hours and sharing data on drunk and disruptive passengers.
Home Office minister Victoria Atkins said: "Most UK air passengers behave responsibly when flying, but any disruptive or drunk behaviour is entirely unacceptable.
"This government is committed to ensuring that the travelling environment for airline passengers remains safe and enjoyable.
"This is an excellent opportunity for all interested parties to engage directly with us, inform our understanding of the problem and identify suitable solutions."
Calls for action are nothing new.
In 2017, the Lords Licensing Act committee said it was "not for one moment" convinced a voluntary code of conduct introduced the previous year was proving effective in dealing with the problem.
In a report, it called for the Licensing Act to apply to airports like it does to other premises selling alcohol.
Sky News has also reported on calls to make the consumption of alcohol bought in duty free on board planes a criminal offence.