Getting Brexit deal through Commons will be Herculean job for Theresa May
Blink and you might have missed it, but the EU has formally backed Theresa May's Brexit plan.
No champagne corks popping in Brussels though, as European Commission President Jean Claude-Juncker said today was "a moment of sadness, it's not a moment of celebration".
He still believes Brexit is the "wrong decision".
Not the view of Theresa May, who dutifully says she has a "clear mission" to make Brexit happen.
That's one step closer with the EU's official endorsement, but she still has the Herculean job of getting parliament to back her.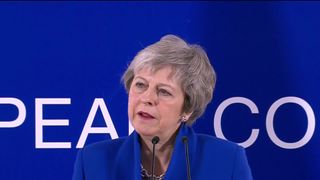 Opposition appears to be growing.
Despite last-minute meetings with veteran Brexiteer Iain Duncan Smith, he's confirmed it would be "very, very difficult to support".
And hopes that Labour MPs from large Leave areas would vote for the deal are fading after Wigan MP Lisa Nandy said it would be "inconceivable".
So Theresa May has just weeks to persuade parliament.
She's embarking on a massive PR push across the country, but will it be enough to give her the numbers?
Too early to say, but it's looking increasingly difficult.
If her deal is voted down, the UK will enter unchartered waters, and all bets are off as to what would happen next.