Fury draws with Wilder and fails to regain heavyweight title
Tyson Fury has failed to regain the world heavyweight title after a draw was ruled by the judges following a dramatic final.
After Fury was knocked down in the final round, millions were shocked to see him get back on his feet and then be denied a victory at the hands of the judges at the WBC world title fight in Los Angeles.
The Brit had gradually pushed ahead throughout the match, but went down in round nine – and was put down again in the final round.
Fury collapsed to the floor just 40 seconds into round 12, after a powerful left hook from Wilder.
He managed to get back on his feet, but the fall cast doubt on what had looked like a clear cut victory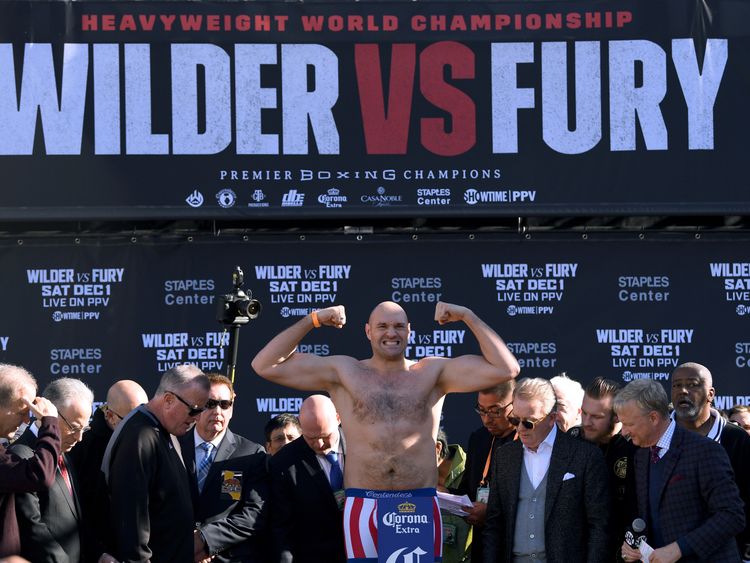 The final decision fell to the judges who ultimately ruled the match a draw.
This means Wilder retains the title and Fury must hope for a lucrative rematch.
Both remain unbeaten.
Ahead of the fight, Wilder, 33, said: "Tomorrow I get to release everything that is inside of me. Definitely this the most important fight of my career, but I've fought tougher guys than him.
"This is just another step of me getting to where I want to go. I'm gonna knock him out."
Fury had said: "I'm going to win this fight – one million per cent. There is not a doubt in my mind. No matter what he brings on Saturday night I will over come him and win and take the WBC title back to the UK."
Fury came in three stone heavier than Wilder during the weigh-in earlier this week.
The pair had to be held back as tensions rose between the two fighters, prompting an increase in security to avoid matters escalating.
This was the second attempt to claim the title by 30-year-old Fury, who is known as 'The Gypsy King'.