FTSE hits seven-month low as world markets suffer
Markets around the world have taken a hit, with poor performances in Asia overnight affecting markets in Europe and the US.
Britain's FTSE 100 was down 1.24% to a seven-month low, while all three main US markets were down – the industrial Dow Jones by 1.45%, the broad-based S&P by 1.64% and the tech-rich Nasdaq by just over 2% – although there was a slight recovery in the US as markets headed towards close.
Sky's business presenter Ian King blamed the falls on a "whole combination of factors".
He said: "The big long-term factor is that the US Federal Reserve is starting to raise interest rates again and that requires investors to have a complete repricing of risk across the piece – taking some money out of one asset class and putting it in another."
Other factors included Saudi Arabia, which Ian King said was "forcing investors to think about how they approach [the country]".
"A lot of people thought the crown prince was a reformer but all of a sudden investors are thinking: hang on, he's like other Saudi leaders of the past, perhaps he's not such a moderniser as we thought," he added.
The Saudi leaders are suspected of knowing about the killing of a Saudi journalist at the country's consulate in Istanbul earlier this month.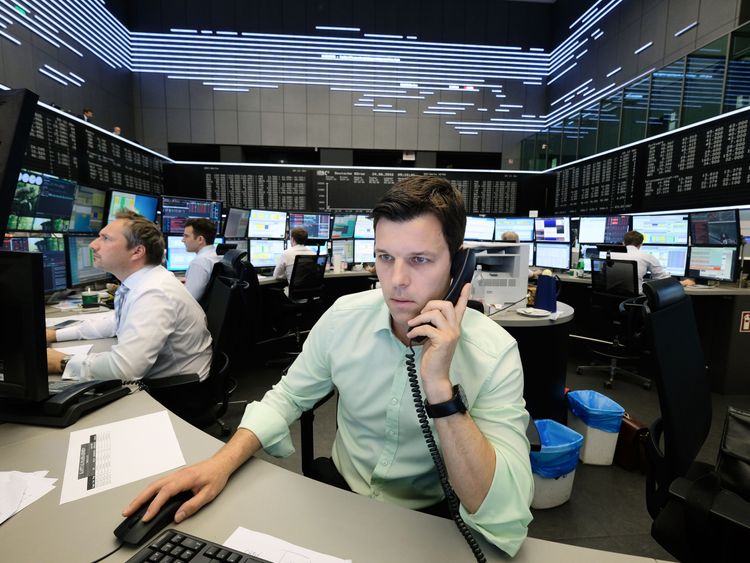 Among the other factors distressing the markets, Ian King suggested a rising oil price and bad trading updates from important US manufacturers Caterpillar and 3M.
Outside the US, there is also Brexit uncertainty, sluggish growth in China, Italy's dispute with the EU over a high-spending budget, and the continuing poor performance by Germany's Dax.
He said: "The Dax is a very global index…full of companies very highly geared to global growth, in particular global trade.
"You've got a trade war rumbling on in the background between the US and China, German companies get caught up in all that – a lot of what they produce is supplied to China."
There are also results expected later this week from Silicon Valley tech giants which are causing some nervousness, he added.
The FTSE 250 was down 2.2%, its lowest level since February last year, and the European STOXX 600 was down 1.6%
after hitting its lowest point since December 2016.
While gold mining, tobacco and utility companies had a good day, most other stocks suffered, especially the financial sector and energy stocks. Ocado was the biggest faller – down 9.7% in its worst performance in more than two years.
Mike van Dulken, analyst at Accendo Markets, said: "We're back to where we were.
"We had a week of respite and now the market's resumed its focus on negative factors more than anything else."