Five-hour delays at Eurotunnel due to 'extreme weather'
Passengers are experiencing five hour delays at Eurotunnel amid extreme weather conditions.
Families going away on summer holidays face a long wait at Folkestone as the shuttle service deals with "restricted shuttle capacity" because air conditioning on some of its trains has failed.
At Stansted, restrictions placed on flights overnight due to thundery weather have had a knock-on effect to this morning, leading to delays and cancellations.
A Eurotunnel spokesman said: "Waiting time due to restricted shuttle capacity caused by the extreme and prolonged high temperatures.
"Ticket sales for travel today currently unavailable.
"The prolonged and unprecedented temperatures in the South East of England are affecting the air conditioning on board our shuttles. Due to the high level of traffic booked, we are currently unable to check-in any customers arriving more than two hours before their booked crossing time.
"We strongly recommend that you stock up with water and take a comfort break prior to arriving at our Folkestone Terminal."
Poor weather also impacted Stansted, leading to restrictions on flights, and the knock-on effect means more flights are being delayed and cancelled.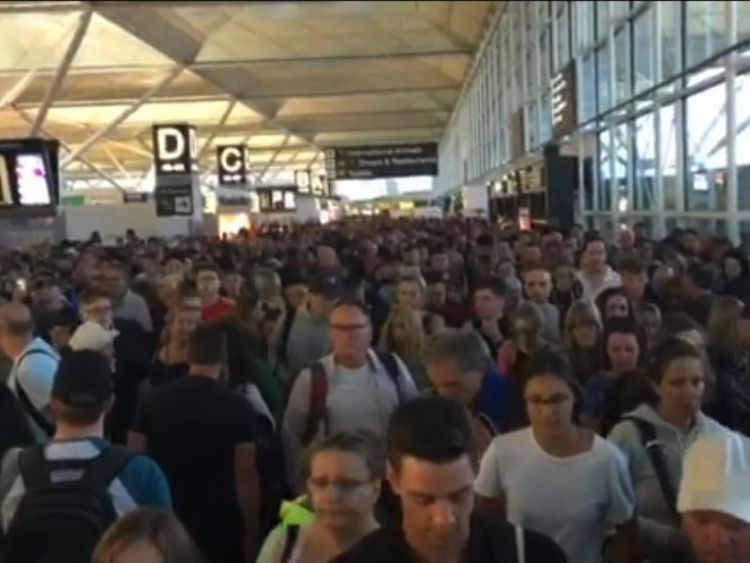 A spokesman for Stansted said: "Passengers at Stansted airport are facing delays and cancellations following yesterday's weather.
"Restrictions put in place by air traffic controller NATS are still having a knock on effect this morning on arrivals and departures.
"Passengers advised to check with their airline before they travel."
Mark Coxhead tweeted to the airport: "I think there are about 10,000 customers who deserve some kind of explanation for the complete meltdown of your systems and communication tonight."
Tom Happold, director of Happen, told Sky News: "I've missed my flight with my family. I've got two kids with me and my wife.
"It's complete chaos here. There's lots of arguments, babies crying, lots of pushing and shoving.
"There's a lack of staff both from the airport and the airlines. Nobody knows where they're going, where they're queuing, people are getting to the front of the queues and then finding the flight is shut, which is what happened to us.
"We got to the front of the queue and found out the travel company we are with hadn't been in touch with our airline, but we can't call them because they don't open until 9am."
He said many people were sticking it out, despite getting to the front of the queue and finding their flights shut.
He said: "If they just had a few more staff it would just work so much better.
"We are trying to find out what we can do because we have missed a flight. There's not information on the tannoy here, some of the staff are helpful but there's so few of them.
"We only know anything about the weather because we are looking it up. Couldn't they have brought more staff in today?"
More follows…