Fake street signs aim to shame criminals in London borough
Fake street signs have popped up in a London borough as part of a drive to shame drug dealers and encourage police action.
Street artists have amended signposts to read "give way to oncoming drug dealers", "crack pick-up point" and "needle free zone".
They also spray-painted a "drug dealers only" parking space in Columbia Road in Shoreditch, Tower Hamlets.
The artworks in east London have been created by the anonymous "Columbia Road Cartel" of street artists.
The Weavers Community Action Group, which claims to have around 70 members from Tower Hamlets, commissioned the signs.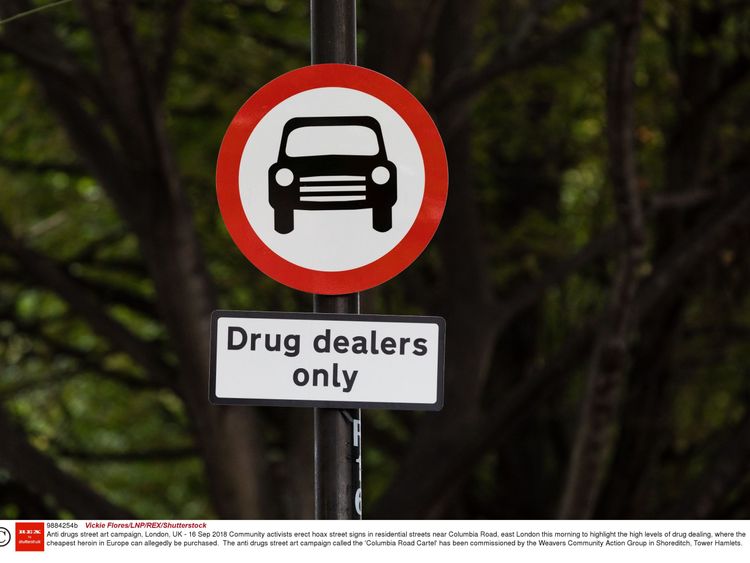 The group formed in April this year in response to "open trading in hard and dangerous drugs", the Evening Standard reported.
A post on the group's website claims that heroin in Tower Hamlets is the cheapest in Europe.
Penny Creed, vice chair of the Columbia Tenants and Residents Association, said the signs appeared on Columbia Road and surrounding streets on Sunday.
She added that they were taken down by the council within 24 hours.
Mrs Creed said: "The drug-dealing around here has got much worse in the last three years.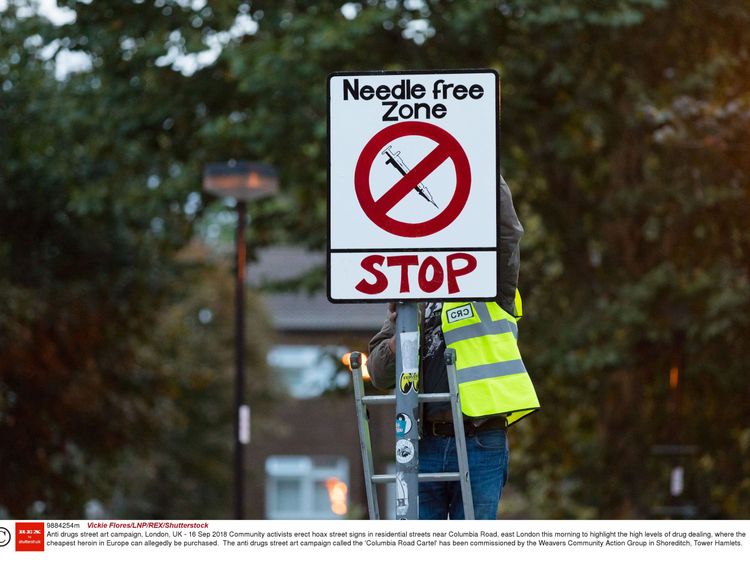 "You see the dealers sometimes doing up to 10 deals a day.
"I think they are dealing crack, heroin and possibly spice."
Mrs Creed said the reason for the rise is likely to be cuts, and added: "There have been cuts to mental health and drug programmes, and more people are homeless.
"There have also been cuts to the police service.
"I think it's a combination of things."
Local restaurant owner Niamh Doyle, 37, said people were turning up outside her premises "every two hours" to pick up drugs.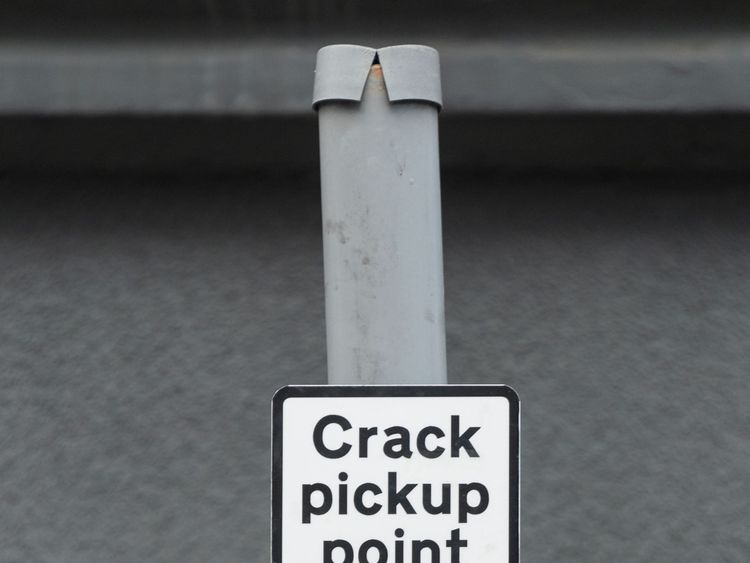 She said: "It's non-stop, it's getting worse.
"It's intimidating for our staff… we'll go out and confront them and ask them to move on, they can be quite aggressive.
"The cars speed along, they speed so fast they knocked down a whole bollard outside our restaurant a month ago."
The restaurant's co-owner Anthony Ussher, 37, said the drug-dealing in the area was putting off new customers.
He said: "It's quite upsetting.
"If you are walking down the street and every two hours there are 20 junkies waiting to get crack on the corner, it's intimidating."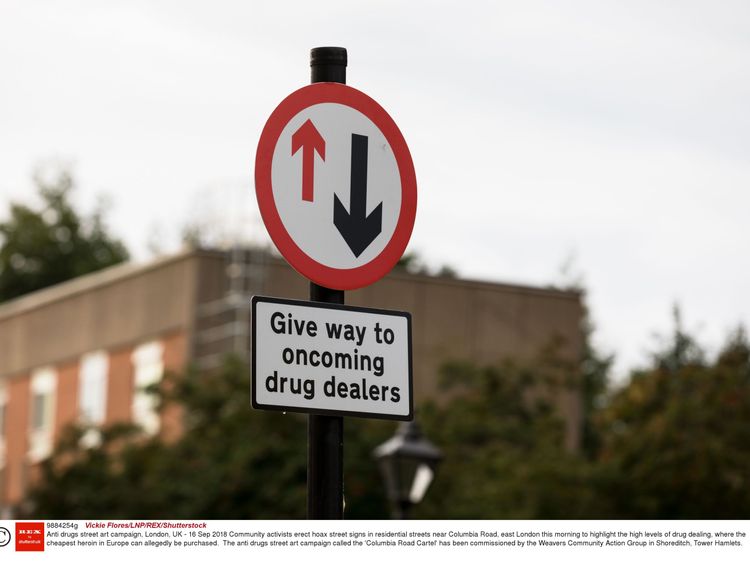 He added that the drug users themselves were leaving litter throughout the neighbourhood.
Mr Ussher continued: "It's not nice to go out and find human faeces all over your porch because there's nowhere to go."
Shoreditch is an increasingly gentrified neighbourhood and nightlife hotspot, but criminal gangs are on the rise.
A rise in homelessness and cuts to mental health services have also contributed to the problem.
Ms Doyle, who blames a lack of public money, said: "All the residents are on a WhatsApp group and they film all the time.
"We've got tons of registrations, tons of pictures of the same cars, the same people, and it just falls on deaf ears.
"Nothing happens."
Tower Hamlets council has insisted it is working with police over the issue.
The council said in a statement: "We understand the frustration of these residents, which is why the council has invested £3m in additional police officers to make up some of the shortfall in government cuts."
Sky News has contacted the Metropolitan Police for a comment.