Ellie Gould: Teenager jailed for murdering 17-year-old girlfriend | UK News
A teenager who stabbed his 17-year-old girlfriend to death in a "brutal" and "horrific" murder has been jailed for life with a minimum term of 12 years and six months.
Thomas Griffiths, 18, killed Ellie Gould at her family home in Calne, Wiltshire on 3 May 2019 – the day after she ended their relationship.
He strangled Ellie and stabbed her in the neck 13 times, before placing the knife in her hand, in an attempt to make the wounds look self-inflicted.
Griffiths – who was 17 at the time of the killing – attempted to cover up his actions by dumping evidence and texting Ellie's phone, despite knowing she was dead.
Ellie – a passionate horse rider – was in her first year of sixth form and had aspirations of joining the mounted police.
The courtroom at Bristol Crown Court was "packed out" with Ellie's friends and family as the sentencing began on Friday morning.
In a personal statement to the court, Ms Gould's mother said that no parent should ever have to hold their dead daughter's "cold hands" as she did.
She added that the death of her daughter played constantly on her mind and Mr Gould said his daughter's death left him feeling "helpless, empty and bitter."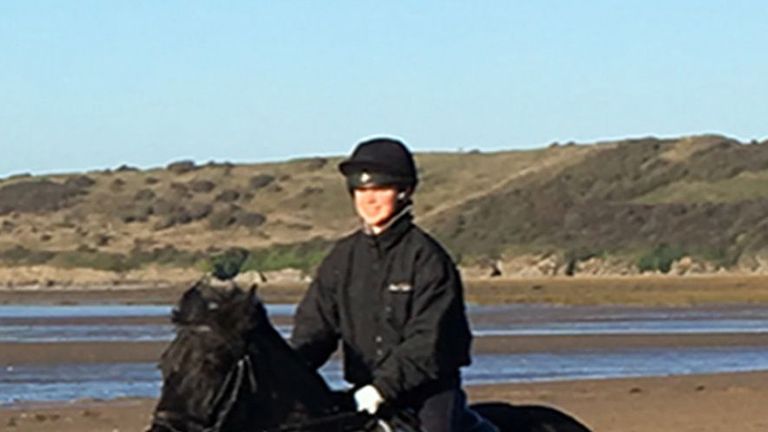 In mitigation, Sasha Wass QC, representing the defendant, said that Griffiths was an "exceptional" student, and that he had competed in county and international sporting competitions.
She added that Griffiths was "presented with a series of stressful life events," which included family illnesses and exam worries.
Ms Wass added that Griffiths was in a "state of denial" following the murder, and that he tried to act as if nothing had happened, but later had accepted what he'd done.
In a letter, Griffiths apologised for his actions, saying: "All I feel is remorse for Ellie and her family after I took such a special daughter and sister away from them.
"As well as this, I would like to apologise to my family who are truly devastated by my actions and what happened.
"I'm so sorry. I know my apologies and explanations will never be enough but I hope in time I can show how truly sorry I am."
In sentencing, Mr Justice Garnham said: "For a few months, you had been boyfriend and girlfriend. On about May 2, she had decided to end that relationship.
"What matters is that she had called a halt to the relationship as she was perfectly entitled to do. You say you were upset by that.
"In my view, you were a great deal more than upset."
Mr Garnham added that he did not accept Griffiths' account of events that the pair had argued during a study session, saying: "You and you alone know exactly what happened that day but what is clear is that at some point, you put your hands around Ellie's neck and tried to throttle her."