CCTV shows last known movements of missing Libby Squire | UK News
These are the last known movements of a student who has been missing for nearly two weeks.
Libby Squire, 21, disappeared after a night out with friends in Hull on 31 January.
Fresh CCTV footage shows her walking toward The Welly Club in the city at 11.18pm, unsteady on her feet as she negotiated snowfall from earlier that day.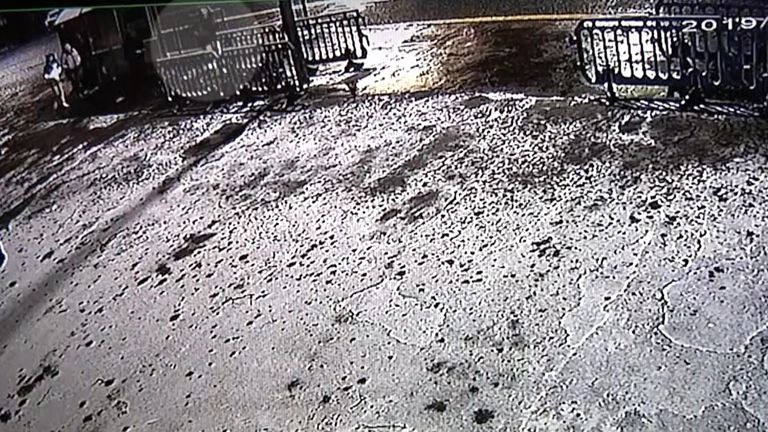 Ms Squire, wearing a black dress, can be seen with friends at one point, one in a winter coat who appears to loop arms with her as they wait to get into the club.
Less than five minutes later Ms Squire was turned away as doormen thought she was too drunk, so she got into a cab to head home.
The footage was taken from a camera near to the club, used by a business.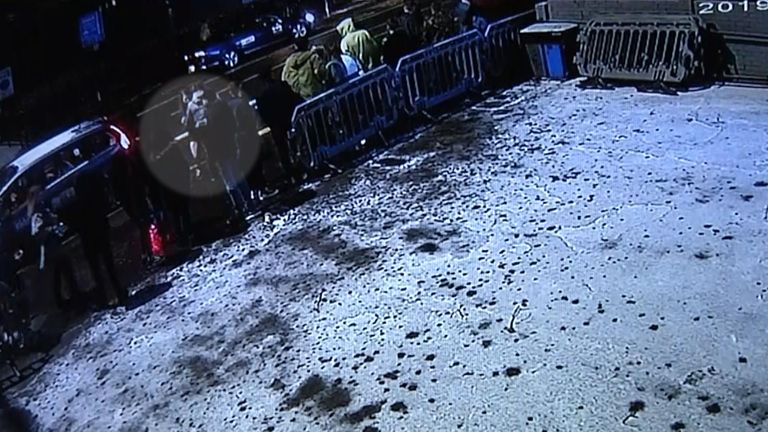 Business owner Lukasz Rybus said: "I want Libby to be found, to be back with her family and friends.
"This footage shows that she was dressed all in black and seems to be wearing lighter coloured trainers or boots.
"I just hope that this footage helps jog someone's memory, if it helps someone remember seeing her, that can only be a positive thing."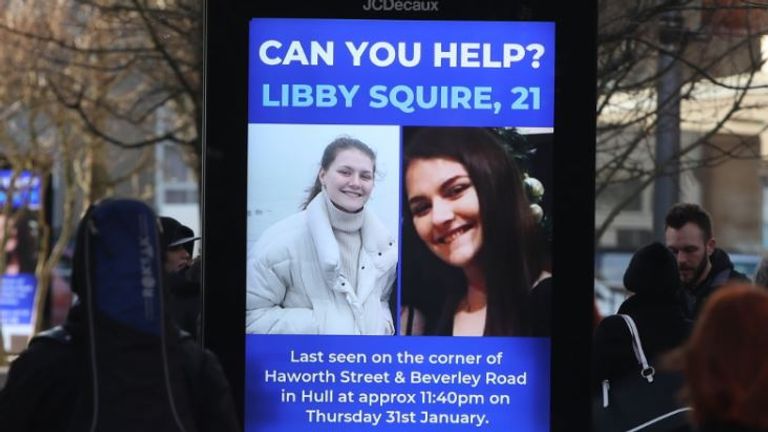 Ms Squire was home again soon after getting into the cab, with police believing she got back at 11.29pm.
She was then seen 10 minutes later near a bench on Beverley Road where a motorist stopped to offer help.
It is believed CCTV footage is being examined which shows a man getting in and out of a car minutes after Libby was last seen.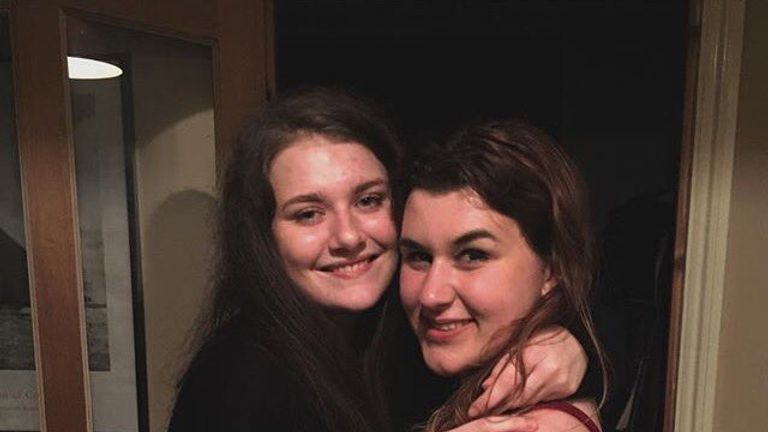 The footage appears to show a man sitting with his legs out of the driver's side door of a parked vehicle in Hull close to where Ms Squire, a philosophy student, is believed to have vanished.
The man is seen leaving the car and just over a minute later he opens the front passenger door and moves around before getting behind the wheel and driving away at about 12.09am on 1 February.
The new footage comes as police have sent letters to residents of Raglan Street to ask them if they saw or heard anything unusual overnight between 31 January and 1 February, the date Ms Squire was reported missing.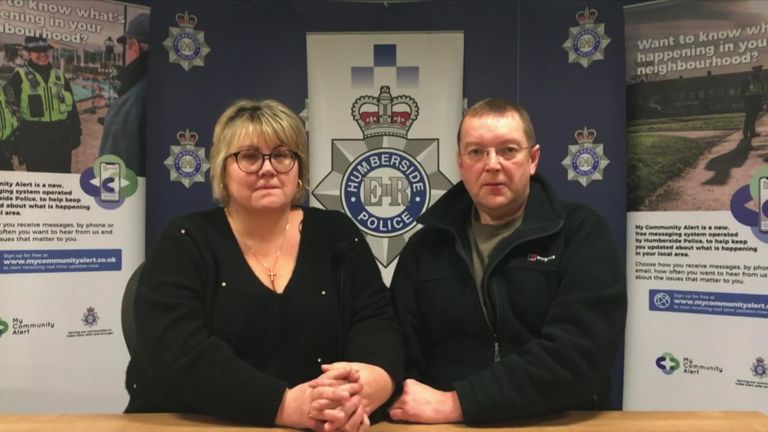 Police said in a statement that 50 detectives are working on the case as well as hundreds of uniformed officers, three specialist search advisers, nearly a dozen underwater officers and dog teams.
Humberside Police thanked members of the public for "coming alongside them" in the search.
Although the letter went out to Raglan Street residents, police were also around Hull University, Cottingham Road and Newland Avenue to reassure people.
Digital screens in the city centre and at petrol stations have shown the appeal for information, while businesses and community buildings are displaying posters to help trace Ms Squire.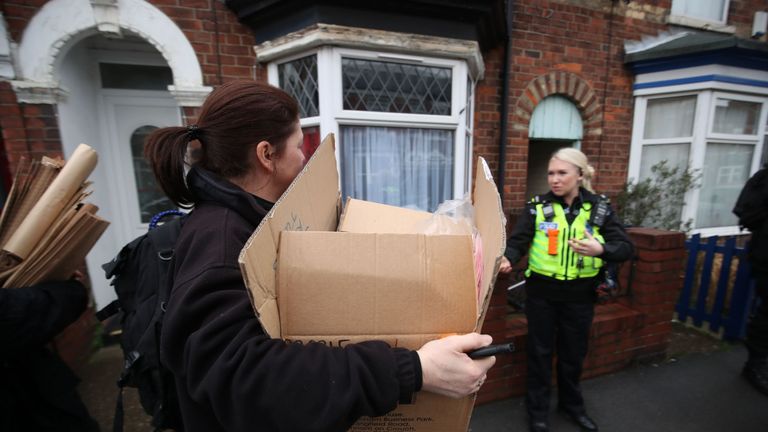 Pawel Relowicz, of Raglan Street, Hull, was arrested on suspicion of abducting of the 21-year-old student on Wednesday, and police were granted extra time to question him over the weekend.
He was charged with unrelated previous offences, including voyeurism and outraging public decency and appeared in court on Monday.
Relowicz pleaded not guilty to masturbating in a public place, watching another person "doing a private act" for his own sexual gratification, and stealing vibrators, sex toys, knickers, condoms, photographs and computer equipment from people's homes.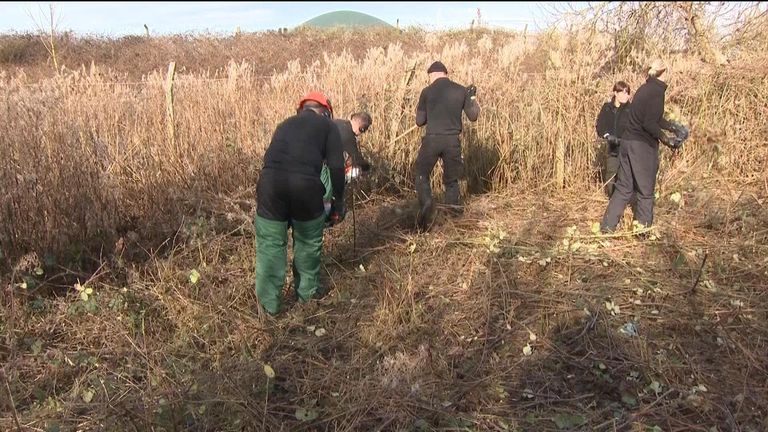 His next hearing is due at Hull Crown Court on 11 March.
Detective Superintendent Matt Hutchinson said on Sunday: "We are continuing to investigate the disappearance of Libby Squire and a 24-year-old man remains under investigation.
"Our priority remains to find Libby and support her family at this incredibly distressing time."
A JustGiving page to help Ms Squire's parents fund travel and accommodation while the search is underway has raised more than £6,000.
:: Anyone with information is asked to call police on 101 quoting log 29 of 01/02/19 or alternatively call Crimestoppers anonymously on 0800 555 111.