Budget plans will go ahead regardless of Brexit outcome
Philip Hammond has told Sky News the measures announced in his budget will go ahead regardless of what happens with Brexit.
The chancellor said: "The budget I announced yesterday stands on its own two feet.
"If we do a good deal with the European Union, as I said yesterday I hope there will be a deal dividend that allows us to put a bit more money into the envelope for the public spending review next year.
"But the budget I announced yesterday will be put through parliament, the measures I announced yesterday will go ahead in any case."
The comments are a departure from what Mr Hammond said at the weekend, when he warned a "no-deal" scenario would force him to draw up an emergency budget.
He said this outcome would require him to "look at a different strategy" – remarks that prompted what many interpreted as a rebuke from Downing Street on the morning on Monday's budget.
Prime Minister Theresa May's spokesman told journalists at a regular briefing that all of the budget's spending commitments would be funded irrespective of whether there was a Brexit deal.
Mr Hammond's latest comments suggest he has fallen in line behind that position.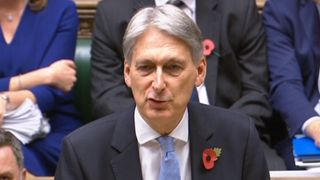 In his address to the Commons the chancellor declared the era of austerity was "finally coming to an end" as he delivered the biggest giveaway budget since 2010.
The budget included confirmation of a pledge of £20bn extra per year for the NHS by 2023, a £1bn boost for defence and £1bn more for Universal Credit benefit changes.
The chancellor's budget book revealed his decisions would mean billions of pounds of extra spending, largely accounted for by the increase in cash for the health service.
And, as well as the spending plans, Mr Hammond cashed in on the improvement in public finances by bringing forward Conservative manifesto tax commitments by a year.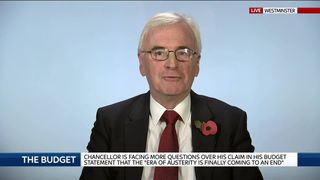 Coinciding with the UK's exit from the EU, the personal tax allowance will now rise to £12,500 and the higher rate threshold to £50,000 in April next year – 12 months earlier than previously planned.
Labour's John McDonnell gave Mr Hammond's claim short shrift, telling Sky News that austerity "rolls on".
"There's a whole range of examples of people I think that will be crushingly disappointed as a result of yesterday," the shadow chancellor said.
More follows…