Bank holiday getaway plans to be hit by rain and delays
Millions of families are facing bank holiday misery as extra cars hit the motorways and rain falls across much of the country.
The Met Office has predicted sunny and cloudy weather for most parts on Saturday, but much of the UK is expected to experience "a good six hours" of downpours on Sunday.
Forecasters predict sunny weather will return on bank holiday Monday along with some cloud cover.
Sky News weather producer Chris England said: "It'll be a rather cool bank holiday weekend, with a risk of a ground frost in the countryside on Saturday morning and with temperatures mostly below 20C, 68 Fahrenheit during the day.
"Saturday will be fine for many, but Sunday will bring prolonged and locally heavy rain in from the West, although that'll clear from all expect the extreme East by evening.
"Most places can expect a good six hours of rain.
"Monday meanwhile will be mainly dry, and a little warmer than the weekend, but there will be showers.
"Northwestern parts are most at risk."
The RAC predicts as many as 14.4 million cars will take to the UK's majors roads from through to Monday.
The breakdown cover firm, which carried out research of drivers' intentions with the ravel information supplier INRIX, said around 11.2 million people have car journeys planned over that time period.
Another 3.2 million say they will be driving but are undecided as to which day they will take to the road.
Friday and Saturday are likely to be the busiest days for leisure "getaway" trips as research shows 3.6 million cars are expected to be making journeys on both days.
INRIX data shows that the M5 will be worst hit between J4 and J1, with travel times increasing from 21 minutes to 1hr 21 minutes.
The M1 is predicted to be badly affected from J22 to J25 with journey times increasing from a typical 16 minutes to 62 minutes on Saturday.
Highways England is lifting and completing more than 300 miles of roadworks on motorways and major A roads from Friday morning to help drivers get to their destinations more easily.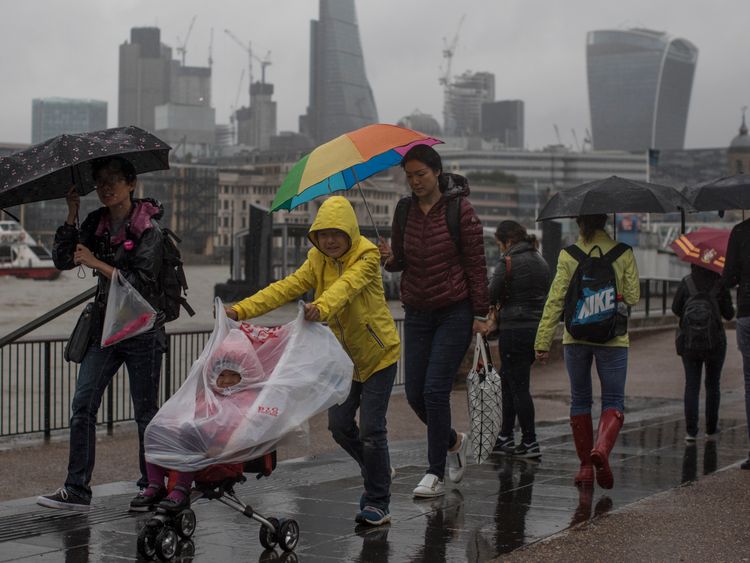 RAC traffic spokesman Rod Dennis said: "While the late August bank holiday is not typically one of the busiest on the roads due to it falling in the middle of the school holidays when people are already away, either in the UK or abroad, it still has huge potential to bring gridlock to major roads, especially if we were to see the sun make a welcome comeback.
"There are plenty of known hotspots on the motorway network but probably the single biggest one in the summer months is the Almondsbury interchange at Bristol, right by the RAC building, where the M5 and the M4 meet.
"As tens of thousands of drivers head for Devon and Cornwall the coming-together of traffic leads to regular tailbacks every Friday afternoon."
Train passengers hoping to travel between London and major cities including Manchester and Birmingham will be affected by the closure of Euston station.
Virgin Trains stated that "due to extensive engineering works on the west coast route" the station will run no services between Saturday 25 and Monday 27 August.
The firm adds: "We highly recommend that you avoid travelling on these dates unless absolutely necessary."
Northern Rail customers will also be affected as the RMT union confirmed a 24-hour strike would go ahead on Saturday.
The action is part of an ongoing row over the future of guards on trains.
Major events across the country that could affected by travel issues include the Reading and Leeds music festivals, Notting Hill Carnival in London and the Rugby League Challenge Cup at Wembley Stadium.