90,000 sign Sky News petition to make TV election debates happen
More than 90,000 people have signed a petition calling for an independent commission to ensure TV debates become a regular fixture of UK elections.
It means fewer than 10,000 more signatures are required for MPs to have an opportunity to discuss it.
If the petition reaches 100,000 signatures by 21 March 2019, it will be considered for a debate in parliament.
The petition was set up as part of Sky News' Make Debates Happen campaign.
A leaders' debate commission would set the criteria for party participation, the objectivity of the audience, the debate formats and dates, plus the rules and the moderators.
Labour leader Jeremy Corbyn, Liberal Democrat leader Sir Vince Cable, former Green Party co-leader Caroline Lucas, Work and Pensions Secretary Amber Rudd and ex-foreign secretary Boris Johnson are among the prominent politicians to have already backed the campaign.
All SNP MPs have also given their support, while ex-deputy prime minister Nick Clegg, shadow chancellor John McDonnell, the Electoral Reform Society, businessman Theo Paphitis and Private Eye editor Ian Hislop are also in favour of an independent commission.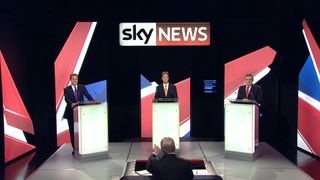 Conservative backbencher Daniel Kawczynski has suggested Theresa May's decision not to take part in debates before last year's election contributed to the Tories losing their parliamentary majority.
"One of the things that damaged us at the last general election was our leader not participating in the debates," he told Sky News.
"I picked up a certain amount of negativity on that during the election campaign in my constituency of Shrewsbury.
"It's vital we establish now, rather than right ahead of the general election, the rules and parameters of these debates.
After Sky News successfully lobbied for TV debates in the 2010 election campaign, three head-to-head clashes were held between Gordon Brown, David Cameron and Nick Clegg.
Since then broadcasters and politicians have failed to agree on terms and there were no head-to-head debates between the leaders of the main parties in the 2015 or 2017 general election campaigns.
The prime minister who did not appear in any televised debates prior to last year's snap general election, has refused to say whether she backs the campaign.
Mrs May told Sky News: "The next general election isn't until 2022. There's plenty of time to think about those issues at that time."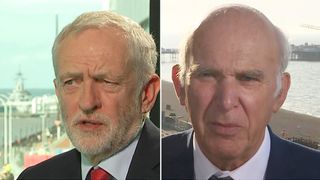 Sky News' editor-at-large, Adam Boulton, said: "I think there is real enthusiasm behind the debate.
"I think the danger is complacency – yes, of course they should happen, people think why wouldn't they happen.
"There's no doubt the Labour Party would love to see Jeremy Corbyn up against the leader of the Conservative Party.
"With newspaper headlines saying we could have a general election this autumn, there really is no time to lose.
"It does need a wave of public support to convince the politicians to take the next step."
Here are the MPs who have backed the Make Debates Happen campaign so far:
:: Amber Rudd
:: Peter Bone
:: Nicky Morgan
:: Boris Johnson
:: Daniel Kawczynski
:: Jeremy Corbyn
:: Rushanara Ali
:: John McDonnell
:: Rebecca Long-Bailey
:: Tom Watson
:: Sir Vince Cable
:: Hannah Bardell (on behalf of all SNP MPs)